…I was hungry, needed money for food—Suspect
By Evelyn Usman & Victor Arjiromanus
Policemen attached to Ejigbo Division of the Lagos State Police Command have smashed a teenage robbery gang that specialised in breaking into shops around Ejigbo and Jakande Estate areas of Lagos in the dead of night.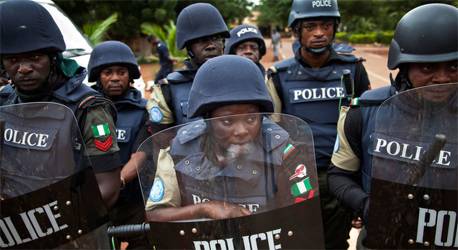 Arrested, were two suspected members of the gang: a Junior Secondary School, JSS, 1 and JSS 2 both students of Oke-Afa Junior Secondary School.
The teenagers (names withheld), aged 13 and 14 years, respectively, allegedly broke into a shop around Ilewa, Jakande Estate, and made away with a power generating set, laptop, an amplifier and one CD mixer, all valued at N295,000.
Arrested alongside the teenagers were two receivers: Adejagun Babatunde, 27, and Lawal Wasiu, 20, who admitted to have bought the stolen laptop for N2,000.
One of the minors, who blamed his indulgence on hunger, told Vangurad they were arrested because of disagreement over sharing formula.
According to the JSS2 student, "I burgled the shop on Monday night and collected a laptop. Next day, I contacted this boy (pointing to his alleged partner in crime), who accompanied me to Iyana Ejigbo where we showed the laptop to this man (Lawal).
"He (Lawal) took us to this other man (pointing at Babatunde), who bought it from us at N3,000. But he paid us N2,000.
"Immediately we were paid, one boy asked us to share the money equally, threatening to report to the owner of the laptop if we refused. I gave him N200 out of my N1,000 while my partner also gave him N200. But he refused and insisted we must give him N400 each, but we did not.
"He made good his threat and reported us to the owner of the laptop, who brought in the Police.
"Hunger made me to steal. I sleep in a shop built with wood in Jakande Estate, where I was learning tailoring. My father owns the shop, but he does not come regularly.
"He usually gave me N200 for feeding, but the money was not regular. I did what I did because of hunger."
They claimed it was their elder brother's—Buyer
On his part, the receiver, Babatunde, said he never suspected that the laptop was stolen because the teenager told him that it was owned by his elder brother who travelled six months ago.
Babatunde said: "When Lawal brought the boys with the laptop, I asked where they got it from. They said they wanted to sell it because they were hungry and that it belonged to their elder brother who is a DJ.
"They said they decided to sell it because it was getting rusty and since their brother travelled six months ago, it would be better they sold it and used the money to eat.
"They told me it was N8,000 but I told them I didn't have that amount and they begged me to give them whatever I had. I negotiated for N3,000 but I only gave them N2,000."
The command boss, Imohimi Edgal, said the adults will have their day in court, while the minors will be handed over to the gender section.