Leaders of Isoko and Itsekiri ethnic Nationalities in Delta South have stressed that the age-long rotational power agreement between the Ijaws, Isokos and Itsekiri for Delta South Senatorial Seat was not tied to political party consideration, but hinged on the principle of fairness, justice and equity.
The clarification was made on Wednesday at Oleh in Isoko South Local Government Area of Delta State when a high-powered delegation led by the Ologbotsere of Warri, Chief Ayirimi Emami visited the leadership of Isoko ethnic Nationality, with a view of addressing pockets of agitation brewing regarding Delta South Senatorial Seat as it affects the forthcoming 2019 election.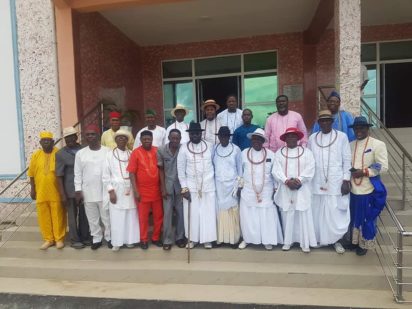 Prominent Isoko leaders that received the select-members of Warri Council of Chiefs were: President-General of Isoko Development Union, IDU, High Chief Iduh Awadhe, Chief (Dr.) Dennis Etaluku, one-time Secretary to State Government, Sir Simeon Efenudu, renowned educationist, Dr. Idodo Umeh and Chief Mike Osigie.
Chief, Brown Mene who spoke on behalf of the Itsekiri delegation, noted that the rotational agreement for the Delta South Senatorial Seat between the Ijaw, Isoko and Itsekiri dates back to the second republic, to avoid a situation where the three tribes will fight themselves.
While stressing that the agreement "was not based on political party", Chief Mene went down memory lane to mention occupants of the position, like late Justice Atake, followed by Ijaw National Leader, Chief Edwin Clark, late Chief Francis Okpozo, before Chief Stella Omu represented the district in the current republic between 1999 and 2003, when James Manager took over and remained in the position till date "like a broken record".
He quipped that it was the turn of Itsekiri to produce Delta South Senator in 2019, assuring that Itsekiri Nation is committed to ensure that the person that will emerge will represent the Ijaw, Isoko and itsekiri interest, just as he noted that the brotherly engagement with the Isoko leaders will be extended to their Ijaw counterparts.
Isoko leaders such as Chief D.A Etaluku, Chief Idodo Umeh, Sir Simeon Efenudu and Chief Mike Osigie while speaking in the same vein, endorsed the itsekiri position of power rotation as regards the Senatorial Seat and expressed their support for Itsekiri candidacy come 2019.
They affirmed that as a way to end the current political logjam, the Itsekiri people who they described as trustworthy and straight-forward should be backed for the Senatorial Seat.
President-General of Isoko Development Union, IDU, Chief Iduh Amadhe in his submission, declared that it will amount to "practicing political brigandage" against equity and justice for anybody in the Senatorial district to seek for 4th or 5th term.
Chief Amadhe noted that Isoko Nation will not present any candidate for the Senatorial position in 2019, stressing, "We (Ijaw, Isoko and Itsekiri) must come together and sign agreement of maximum of two terms", for each ethnic nationality as it affects Delta South.
The Isoko and Itsekiri leaders agreed that renewed engagement should be extended to their Ijaw neighbor to make for a better tripartite synergy.
The Prime Minister of Warri Kingdom, Chief Ayirimi Emami who led the 12-man Itsekiri delegation, expressed happiness with the disposition of Isoko leaders and assured that they will engage their Ijaw counterparts on the optimism that they will key into the restart of the rotation agreement.