Dear Bunmi,
Towards the end of last year, I picked up the phone in my parents' home only for a doctor in a private hospital to inform the family that our dad was seriously ill in the hospital. Instinctively, I told him I would be over without telling my mum. She was the perfect wife and mother and I was sure there was more to what the doctor told me as dad left home hale and hearty that fateful day.
The doctor told me that my dad was brought in by a lady in an ambulance – dead! He'd had a heart attack in her home, while they were in bed together. I was shocked – I'd never felt such pain in my life before.
How could dad do this to our mother who'd spent the best part of her life building an enviable home? Every time I think of my dad, all I picture in my mind is him in bed with this woman, holding her, sharing moments with her when he should have been with mum. How many times had he deceived the family that loved him so much?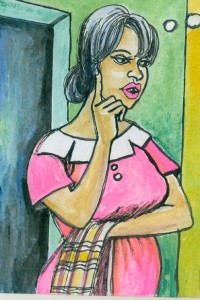 I had to tell the hospital that on no account must mum be told the truth, that we didn't know anything about this other woman until that night. The hospital then arranged for a nurse to be with mum when she eventually saw his corpse. My dad had called earlier to say he'd be working late at the office on a major project for a client. We had to lie to mum that he was brought in from the office.
I later knew who the mistress was and was shocked to see her at the funeral. She'd slipped into the back of the church like a thief and I asked for her to be bundled out. Since the incident, all the love I felt for my dad had turned into hatred. I hope he rots in hell!
Beatrice,
by e-mail.
Dear Beatrice,
In spite of what happened, you handled the incident like the matured woman you are. Of course, you are terribly hurt by what happened to your family. But as you well must have found out, married men have affairs all of the time. An affair is usually a hush-hush relationship until if and when it is blown into the open – which is seldom.
Your dad obviously loved his family and sheltered you from his act of indiscretion. You'll never know if this affair was a one-off, or if he'd been having affairs as he went along.
What is important is that he was a very loving husband, hence your mother's devotion to him, and a father who'd brought you and your siblings up to be what you are today.
Of course, you're hurt as you were obviously close to your dad. With time though, your grief would subside and memories of the good times you had with him will come back to make your hurt easier.
In the meantime, banish all negative thoughts about him and concentrate on living your life the best way you can. Your dad had already lived his.