By Monsuru Olowoopejo
LAGOS—LANDLORDS of Rimax Estate, Meiran, Ifako-Ijaiye Local Government, Lagos and an industrialist, Chief Livinus Okwara, are at loggerheads over the construction of market within the estate.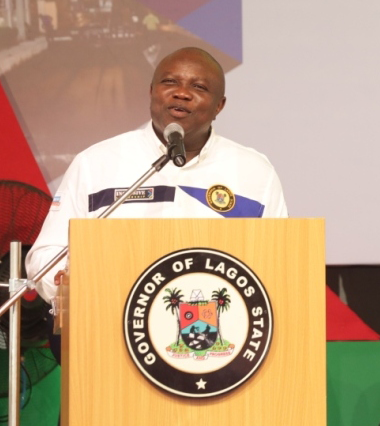 The animosity, Vanguard gathered, has degenerated that both parties have vowed to use whatever means to prevent each other from achieving their aim within the community.
While the landlords, under the aegis of Rimax Estate Landlords Association, RELA, alleged that the proposed site for construction of the market was the only access road into the community.
But the industrialist, Chief Okwara, argued that the site had been earmarked for the project before property began to spring up within the axis.
RELA Chairman, Osazee Obazee, who spoke with Vanguard, alleged that the industrialist "harassed us with thugs, singles out landlords that opposes his vicious, oppressive attitude and subject us to victimisation and intimidation."
Obazee said: "The chief and his cohorts have often threatened to beat some of us up and burn down property of those that kicked against his plans.
"He close gates leading into the community at will thereby blocking the roads leading into the community, this, coupled with the fact that access route into the community is narrow and water-logged, making vehicular movement difficult.
"LAWMA vehicles can't enter the community to cart away refuse due to the permanent closure of the two major entrances approved as road by the Lagos State Government, by him for two years, without thinking of any unexpected emergency that may arise.
"This is a community that has about 11 functional churches and about 75 landlords with tenants and family members, clean environment is non-existent, no drainage system, there are bushes everywhere which serves as hideouts to criminals and serpents make incursions into buildings." Obazee, however, called on Governor Akinwunmi Ambode of Lagos State to intervene in the crisis that has truncated the relative peace enjoyed within the community.
Industrialist reacts
In his defense, Okwara argued that the closed roads were not in existence before, saying, there are two existing  access routes leading to the estate through which people can pass.
He said: "There are two access routes here and the alleged road is part of another person's land. The fact that the church and properties are close to that road does not foreclose the fact that it falls within another man's landed property.
"On the LAWMA matter, I make bold to say that the refusal of the agency to clear the refuse was purely due to debts, it really has nothing to do with lack of road network.
"It is on record that at a particular time, they were owing up to N450,000 and at some point, I had to intervene, addressing the issue with some financial commitment before respite came, it is happening again."