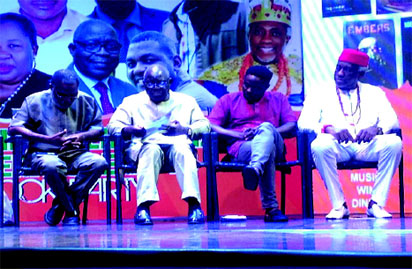 By Prisca Duru & Ebele Orakpo
Following the release of long list of playwrights competing for N35.7 million cash award for the Nigeria Prize for Literature 2018, the ninth edition of CORA-The Nigeria Prize for Literature Book Party, was held to honour the 11 authors.
Sponsored by the Nigeria Liquefied Natural Gas, NLNG, the Book Party which held last Saturday at Terra kulture, Victoria Island Lagos, brought together authors, scholars and literary enthusiasts who enjoyed a robust literary conversation with the playwrights.
The playwrights and their works include; August Inmates by Chidubem Iweka, published by Kraft Books; Death and The King's Grey Hair by Denja Abdullahi,; Embers by Soji Cole, published by Emotion Press; Guerrilla Post by Obari Gomba, published by Narrative Landscape Press; Majestic Revolt by Peter E. Omoko, published by Malthouse Press; Melancholia by Dul Johnson, published by Sevhage Publishers; No More the Taming Hawks by Diran Ademiju-Bepo, published by Dynasty Tales; Once Upon an Elephant by Bosede Ademilua-Afolayan by Kraft Books; Sankara by Jude Idada, published by Parressia Publishing; The Rally by Akanji Nasiru; and Unstable by Dickson Ekhaguere, published by Tryspect Solutions.
Nine out of the eleven were physically present, while Obari Gomba was caught up in traffic, Jude Idada connected from Canada via Skype.
The party featured dance by the Uche Drums, general discussion session anchored by Deji Toye, poetic rendition by veteran mono-dramatist from the  University of Nigeria Nsukka, Greg Mbarjiogu; readings from the long-listed works by Nollywood actors such as Tina Mba, Norbert Young, Toyin Oshinaike etc.
Surprisingly, the competitors found themselves homogeneously exploring the broad theme of social change. Explaining reasons for exploring similar subject, Diran Ademiju-Bepo said that change is a constant phenomenon and every drama drives for change. These plays, he pointed out, are striving for change and playwrights are taking a look backwards and a peep into the future which is a fundamental right of writers.
"Writers are meant to correct socially and morally," Chidubem Iweka began, saying that even when writing comedy, there must be an issue being addressed. According to him, "What is in the front burner today is corruption, power. Corruption has almost swallowed us. Everyday Nigerians and outsiders talk about our entanglement with corruption. Children, everybody is affected, so we try to use our pens to change the situation and make lives better."
In addition to examining the country's major undermining factors, the authors unanimously charged the youths to rise up and seize the country from corrupt politicians.
Another important issue raised at the event was the relevance of theatre to the society. On this note, Jude Idada advocated strongly for rich people to support theatre to make it vibrant enough to create the desired change.
Also, literary guru, Odia Ofeimun decried lack of good theatre in the country due to the fact that architects do not think it's necessary to consult theatre experts before building theatres.
NLNG was represented at the event by its Corporate Communications and Public Affairs Manager, Mr. Andy Odeh.
Odeh said that since inception, NLNG has continued to sponsor the Prize   for literature and science because of the role they play in the development of society, adding that NLNG is satisfied with the quality of works that have so far won the award. He noted that the book party was initiated to celebrate authors for their works which go a long way in helping the company achieve the vision of helping to build a better Nigeria through the Science and Literature prizes and other projects.
In his opening speech, Secretary of the Committee for Relevant Art, CORA, Mr. Toyin Akinosho said the book party was a way of ensuring that there's a robust audience engagement with the books that have been longlisted for the award, stressing that a drama piece that makes it to the last 11 out of 89 entries is worthy of acknowledgement.