By Samuel Oyadongha
YENAGOA—GOVERNOR Seriake Dickson of Bayelsa State has described the police raid on the Abuja residence of Ijaw leader, Pa Edwin Clark, over alleged gun-running, as a failed bid to intimidate the Ijaw nation.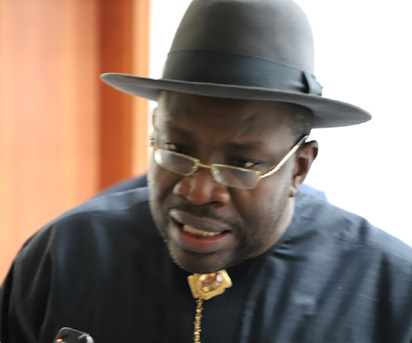 The governor, who maintained that nobody can intimidate the Ijaw ethnic group, insisted that the Ijaw voice would sustain its outcry against injustice and inequality in the country.
Dickson in a statement by his Special Adviser on Media Relations, Mr. Fidelis Soriwei, during a solidarity visit to Chief Clark, in Abuja, said: "As you already know, you and I have been talking about this unfortunate incident, I have made it known, our utter disappointment with the action of the police for which was clearly an unnecessary and condemnable act of intimidation of the family of our leader at the age of 92."
In the governor's entourage were Senator Ben Murray Bruce; former Minister of Water Resources, Alhaji  Muktar Shagari; former Senate Chief Whip, Senator Stella Omu; former Permanent Secretary, Ambassador Boladei Igali, and four-time Minister, Alabo Graham Douglas.
Dickson eulogised Pa Clark for his leadership style, courage, firmness and commitment to the cause of the Ijaw nation.
He said if the unfortunate invasion of the residence of the elder statesman was meant to intimidate the Ijaw nation, the evil plot had failed.
He said:  "We know that no weapon fashioned against our leader, our people will stand. If this was targeted to intimidate our people, it has failed. The spirit of the Ijaw nation cannot be intimidated, the Ijaw spirit is indomitable.
"That is what you have shown and taught us all these years. We admire your courage, your strength of character, which personifies the indomitable spirit of our people. We know that this will not sway you. In this nation, the Ijaw spirit cannot be intimidated. The Ijaw voice will continue to be heard."
Clark condemns lopsided appointments in NNPC
Earlier, Clark who had narrated his ordeal to the delegation, said that the police would have denied the raid if not for the timely arrival of a former Permanent Secretary in the Ministry of Power, Amb. Godknows Igali to his residence.
He said that he had to calm Niger Delta youths who converged on several cities to react angrily over the incident.
Clark condemned what he described the continuing marginalisation of the Ijaw people in the oil sector, especially  in the area of appointments in Nigerian National Petroleum Corporation, NNPC.
He said: "NNPC is the engine room of the oil industry. You (Federal Government) appointed nine people, six of them from the North, one from the West, one from the South-South. Also 36 senior managers of NNPC and 17 from the South, and you don't want me to talk about it. That is nonsense."
He also wondered why junior police officers, who acted on directives from the authorities to raid his residence, were dismissed for carrying our orders from superior authorities.