Delta State Governor, Senator Ifeanyi Okowa on Sunday expressed sadness over the death of a worshipper in the unfortunate collapse of St. Paul Catholic Church building, Ugolo, Adagbrasa in Okpe local government area of the state.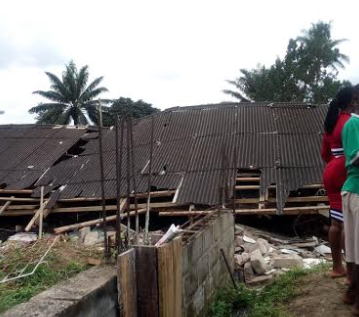 This is even as he has pledged that the state government will take care of the hospital bills of the injured victims.
In a statement issued on Sunday by his Chief Press Secretary, Mr Charles Aniagwu, Okowa described the unfortunate incident as sad and regrettable.
According to the statement, Okowa has also despatched the State Commissioner for Works, Chief James Augoye to visit the site and unravel the circumstances surrounding the collapse.
The commissioner was also charged to find out how the government can assist the victims and the church.
Okowa prayed for the repose of the soul of the late victim while commiserating with the family of the deceased.
"This is indeed a very sad and unfortunate incident".

"On behalf of the Government and people of Delta State I commiserate with the family of the deceased and those injured, the Speaker of the Delta State House of Assembly, Chairman of Okpe Local Government Council, Chief Julius Scott, the Orodje of Okpe, HRM, Orhue 1, Major Gen. Felix Mujakperuo (retd) and the entire Ugolo community in Okpe Kingdom over the unfortunate incidence.
"It is our prayer that the soul of the deceased will rest in peace, and that the injured will experience quick recovery. Our thoughts and prayers will continue to be with the people of Ugolo in Okpe Kingdom over this tragedy," he said.
According to the prelimnary report by the Commissioner for Works, Chief James Augoye, one person died from the incident, eleven were rushed to the hospital out of which seven have been treated and discharged while the remaining four were still undergoing
The commissioner explained that: "the church is a 100 years old church building and in an attempt to rebuild and expand the church, the old church building collapsed as a result of heavily soaked waters ocassioned by the weight of worshippers who leaned against the walls while the early morning mass was on.
Reacting to the report by the Commissioner for Works, Gov. Okowa pledged to pay the hospital bills of all those in the hospital.
He however admonished all builders to adhere strictly to the building code and ensusre they get approval before any construction.
"While we pledge to pay the cost of treatment for the injured, people must ensure they seek necessary approvals before construction of buildings particularly public structures to avoid incidences such as this." the statement added