Mojisola Animasaun is not your average state civil servant. She is warm, affable andstunning, traits that belie her generally serious outlook. The atmosphere is easy as she ushers WW into her still freshly opened cancer facility in the Lagos suburb of Isolo. It is easy to believe you are in an environment of a less somber nature: the staff is courteous; even the patients appear at ease while everyone goes about their business. Mrs Animasaun's office is large and bare. "My office is not a priority", she explains as we sit at her small desk before we proceed on the facility tour. St Cyril Cancer centre, as the facility is named, is designed to be a "self-sustaining" non-profit conceived to be a one-stop, standardized centre where anyone from any social stratus can walk in and be cared for. She reveals more:-
What does a full cancer screening entail?
That is not what we do here exactly but full cancer screening is to start the journey on whether they have cancer or not. Patients will get screened for breast, prostrate, cervical and colorectal – those are the most common cancers in Nigeria. After diagnosis they come back to us for treatment. We have an oncologist who will now decide the kind of treatment the patient should have. Surgery, chemotherapy and radiotherapy are the most common treatments. Immunotherapy is something else coming up but not so common. Right now St. Cyril Foundation wants to concentrate on treatment in all its spheres. We treat patients with chemotherapy but if they need surgery or radiotherapy we send them to places where we have relationship with the physician that we know the standard we want for our patients is going to be maintained but as we grow, our ultimate destination is to have a comprehensive cancer centre where all these treatments are available for patients so we can be able to manage from start to finish. That is long term.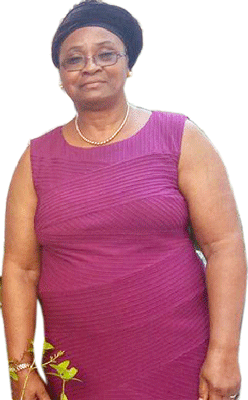 What was the motivation in the first instance; this is a substantial project to take on.
I am a radiation therapist and I have done it for a few decades now plus I have worked in different areas in the world. I go and come back and our situation doesn't seem to have improved in terms of the availability of treatment centers so I started a foundation just so that we can put focus on that area of cancer care. How can somebody know that they have cancer but can't be treated? For instance, we have institutions where they have radiology department right now that the patients have a six-month waiting list. Cancer grows everyday so you don't want that kind of situation or have long working hours for the staff. They get tired so there is no integrity if they are having 12-hour days. That is the situation on ground right now and that is the situation that we came to address. That is number 1 and also ensuring that the quality of care is what they will get if they went anywhere else in the world. They are not things that are impossible for us to do. We need to make sure that they are not there all day; if they are sending them for tests the tests are not taking 6 weeks-6months to get results. It does sound like a onerous task but we will just take it one patient, one area at a time once we consistently keep the standard. At the end of the day it seeps to the other centers as well  because we are a non- profit: we are not in it to make money but hopefully other people who are in it to make money will be able to maintain that standard so that any patient gets the same quality treatment.
So where does the funding come from?
Different places. We get sponsors; try a bit of innovative ideas. Our clinics are going to be self-sustaining. It comes from my salary, family members, any source that I can get it from. I have told everybody I've become a professional beggar. I look at people and think, " ok, how many chemotherapy cycles can I get out of this person?" I honestly believe that this is a vocation that I almost have to do because I have watched the revolution of cancer care internationally and I feel that with the experience/exposure that I have, I feel I am here in this place at this time to do something about it. It is something I am very passionate about so when I talk to people about it they can see that. Even our staff has the same kind of mindset so it is not that we are trying to make round pegs into square holes.
How easy has it been to get the right personnel?
Again I think we have been very lucky. In this short time we've had the kind of people that left if they don't fit in but the majority of our staff are so devoted even if the paycheck is not so lucrative or coming in at the right time for them. The way they treat patients is commendable. The majority of our staff is awesome; I am so proud of them and grateful that they are walking this journey with me and my family members. It's been incredible, really.
You spoke about 3 main kinds of cancer treatments. Which would you recommend the most?
Cancer most of the time is growth that is growing where it should not be so it's surgery unless it is where it is inoperable such as cancer of the blood or the bone marrow. It's very dependent on the individual. One person can have cancer of the breast stage 2. They might have other things that are wrong with them so the oncologist must be able to have a treatment plan. That is why you have to have an oncologist managing the patient.
If you have a cancer patient that is not being managed by an oncologist, it is wrong because there is need to individualise. Other doctors might know that you need to have surgery but they might not know how to individualise it for each patient or how to manipulate the patient's reactions. It is not as specific as malaria that you take chloroquine or you take something else to get well. It has to be done for that particular patient everyday.
Is cancer communicable?
No no no; it can be hereditary or filial from one family member to another just because you are members of the same family- like two sisters having breast cancer. It's not like HIV or Tuberculosis.
I ask because there seems to be a lot of silence and consequently ignorance about the disease. One fails to see why especially as it can be so devastating.
I actually started working as a radiotherapist in the 1980s. There's been a lot of cloak and dagger. They just whispered the words. There has been a lot of improvement in terms of exposure but there is still a lot of taboo around cancer especially in a lot of African countries simply because we already have the mindset that if there is anything funny growing around it has to be a spirit or a demon so it's almost that you don't want anybody to know so that the person that is doing it will not know that they've been successful.
But more and more, it's improving. It might not seem like a lot but for us in the profession we know simply because from the number of people that we see coming to do awareness programs, screening, follow-ups; people who would just write something on our facebook page…
It is nothing that you have done wrong that causes cancer. Even in worst case scenarios like smoking- that has been identified as leading to cancer but it is not automatic. It increases your risk but is not automatic. It's not something you want to hide from like HIV in those days.
In those days I understand HIV was thought to be sex related so a lot of people thought it's because you are promiscuous that you caught it. We want to change that story so that we have more well survivors talking about it. Usually, people hear about it after the person is dead and they will be whispering about it. It made it even more formidable so when the person hears they have cancer they think "oh, my life is over".
Outside of Africa there are people living even in late stage. Case in point, a best friend for years got cancer like 12 years ago; she is still alive living a healthy, normal life. It's not the cancer that causes the issues; it's the way we address it. We are so busy looking at having cancer that we are not  looking at how to address the way we administer, the way we treat the patients in a holistic way, their mindsets. If they see somebody well, looking like me, and I say I am a cancer survivor and I have had it for 10 years so the next person who gets it would want to be like me. They would not want to be like that person who is in the grave that people are whispering about. And get those people to change their mindset, come in as early as possible so that they have a good quality of life even if they don't live to an old age. Who says someone cannot go out and get knocked by a car? Nobody knows  tomorrow  but let it mean something to have a good quality of life so that people can see positivity and be able to come for breast exams and so on.
Or sometimes people are worried about the cost of treatment?
For cancer, meds are expensive all over the world and that is why we are trying as much as possible to make it as easy as possible for people. Again, there's no reinventing the wheel. Let's find ways of how people can pay in Nigeria for their treatments. People will help you buy aso ebi but they will not want to help you get treatment. Let's change that mindset.
We are part of an international crowdfund. It is interesting because we get money from Nigerians but many people who are putting money are foreigners because their mindsets are used to giving. If someone says they are going to give 20USD throughout the year, they don't have 240 to give at once, they will consistently give that amount so those are the kind of things we have to look at in Nigeria for indigent  patients and even those who start off using their own money but cannot complete it.
That is why at St. Cyril's we started this initiative we call SCIPS (St. Cyril's Initiative for Patient Support). It might be somebody who had 3 cycles of chemo out of 6- we can help them.
We want to get to the point  where we can help people who are working and have an income but don't have bulk money. We can help their organization so they can give their own money every month out of their salary over a period of time and get treatment started. There's no point in someone having cancer and they have to look for money for six months; by the time they come back they have more problems than they started out with. Nigerians, once we see the benefit of something, will get used to it. Another decade when, God willing, all of us will be alive, it will be a totally different picture because a lot of people are working on getting it right.
How involved in government in all of this?
They are doing a lot- for instance LUTH is investing right now in radiotherapy, but I'm going to branch out and say something bold. I think government should work with its areas of strength. A lot of money is being spent but it's not showing because government is not limiting itself to its area of strength. Government can give capacity-   equipment, professionals, land, buildings; but in terms of management government- just by being government- decision taking can take years.     Those processes have to be followed because it's like a wheel  and the wheel will get stuck and it will be detrimental at the end of the day. If something happens to the equipment like the radiotherapy machine it cannot wait three months to be fixed because some people have started treatment. In radiotherapy it is worse to have started and not finish than not to have started at all. It is all very messy so it has to be fixed right now, 24/48 hours turnaround time but you cannot do that with government.
Do you have any major worries regarding this project?
I worry about it constantly. As we speak our patient load is increasing but we are nowhere near the point where it's going to be self-sustaining.
Subscribe for latest Videos