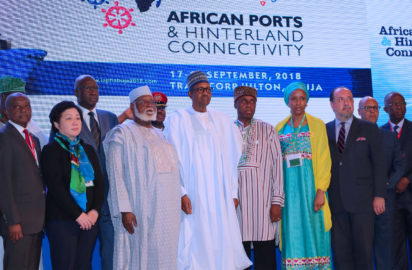 PRESIDENT BUHARI DECLARES OPEN 2018 AFRICAN PORTS AND HINTERLAND REGIONAL CONFERENCE 2A-C; R; President Muhammadu Buhari (M) flanked by former Head of State, General Abdulsalami Abubakar, SGF Mr. Boss Mustapha, Nigerian Ports Authority, Minister of Transportation, Mr. Rotimi Ameachi, Ms. Hadiza Balab Usman and others regional MD's during the opening of 2018 African Ports and Hinterland connectivity Regional Conference held at the Transcorp Hilton Hotel Abuja. PHOTO; SUNDAY AGHAEZE. SEPT 17 2018.
President Muhammadu Buhari has advised African countries to improve on ports infrastructure and utilise all natural maritime endowments to facilitate trade.
Buhari made the plea on Monday in Abuja during the first Regional Conference of International Africa Ports and Harbour (IAPH) with the theme: "Africa Ports and Hinterland Community."
He said that interconnectivity would improve African countries' economic competitiveness as targeted under the Economic Recovery and Growth Plan.
Buhari advised that every port should have the complement of rail infrastructure.
"To complement the improvement in trade facilitation, we have improved on upgrading infrastructure.
"Our projection is that by the end of 2021, we will have standard gauge railway across the main North-South trading route.
"The same level of serious attention is being given to the improvement of road infrastructure.
"At the moment, 25 major highways and 44 roads are under construction across the six geo- political zones of the count just as we have insisted on the simulation activities on our inland waterways.
"Major inland river channels are being dredged with adequate channel markings for ease of navigation all the way through the Eastern and Northern parts of the country.
"That is the only way to go if we plan to remain competitive in the maritime industry.
"I want to implore participants at the conference to see themselves as people opportuned to stand in positions of responsibility on behalf of Africa," the president said.
Buhari said that maritime sector was central to facilitation of trade and total integration of Africa for development.
The Minister of Transportation, Mr Chibuike Amaechi, urged African countries to optimise the comparative advantage of their maritime endowments.
Amaechi said that it should be understood that optimising maritime potential was totally dependent on efficient transportation of cargo from ports of destination into the hinterland.
"We are therefore committed to the multi-modal system of transportation from all our ports by improving on the extension of our railways to facilitate the ease of transportation from ports to hinterlands.
"We have started test operations in Warri and other places two months ago. We have reconstructed some railways for standard gauge to further open up the nation's hinterlands.
"With the development of dry ports in Kano and Kaduna, with direct rail connection, cargoes and containers now easily transmit to Northern Nigeria.
"This also extends to Chad, Niger Republic in our determination to promote transshipment of cargoes to Niger Republic.
"We are also partnering with the government of Niger Republic in the reconstruction of Maadi, Niger Republic, from Kano to promote regional motivation of trade," he said.
Amaechi said that solid minerals and some agricultural produce were already being exported from Ikorodu Lighter Terminal through Apapa port in Lagos.
The Managing Director, IAPH, Mr Patrick Verhoven, said that Africa was the second largest and second most populous continent with six of the 10 fastest growing economies in the world.
According to him, improving hinterland connection is not merely a matter of "hardware".
"It is also about investing in "software", namely people's skills and Smart IT with 50 per cent of Africa's 1.2 billion people under the age of 20 and a workforce of 504 million expected by 2020," Verhoven said.
He told the participants to ensure that the port industry attracted the right status as well as made the best use of innovations in digitisation, stressing that the use of data was of equal significance.
The Vice President of IAPH, Ms Hadiza Bala-Usman, said there was no doubt that "Africa holds a special space in the global space with 39 of the 54 countries on the continent endowed with littoral assets".
Bala-Usman, who is also the Managing Director, Nigerian Ports Authority (NPA), said that the development of the continent was to a large extent, tied to optimal exploitation of its vast maritime resources.
According to her, determinant factors for determing ports are the speed and seamlessness with which owners of cargoes are able to move their consignments out of the ports.
She said that Africa needed some work to be done in that area and urged participants to open their minds to speak out and learn new things that would justify the meeting.
Bala-Usman recalled that IAPH was established to promote development of ports and create worldwide synergy for effectiveness among all member countries through strong member relationships.
The News Agency of Nigeria (NAN) reports that in its 63-years of existence, the association had grown into a global alliance, representing 180 member' ports and 140 port-related businesses in 90 countries. (NAN)