Buhari, Obaseki meet Nigerians in Diaspora, assure on sustained devt
President Muhammadu Buhari and the Edo State Governor, Mr Godwin Obaseki, on Thursday on the side-lines of the 73rd session of the United Nations General Assembly in New York, the United States of America, met with Nigerians in the diaspora, with an assurance to sustain the tempo of development in Nigeria.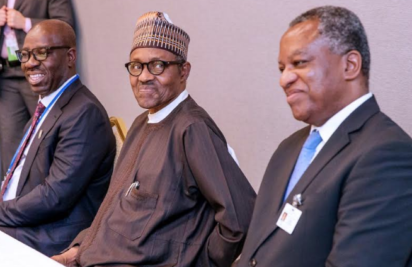 https://www.vanguardngr.com/2018/09/intl-day-of-democracy-obaseki-tasks-actors-on-ideals-development-focused-policies/
Buhari charged the Nigerian professionals to lend their voices to developments in their home country and be quick to condemn bad leadership characterised by corruption and other practices that can reverse the growth of the nation.
At a separate event organisd by Global Hope Coalition, Governor Obaseki represented President Buhari.
The event had in attendance the President of Niger Republic, Mahamadou Issoufou, and other global leaders.
According to the organisers, "Global Hope Coalition is empowering courageous individuals who stand up to terror and violence, preserve our heritage and build bridges across cultures."
The coalition is a network of three not-for-profit foundations based in New York, Zurich and Hong Kong.
The foundation noted that "Violent extremism is one of the gravest dangers of our time—threatening to unravel the fabric of our societies, irreparably destroy invaluable cultural icons and jeopardise the future of intercultural relations."
The foundation honours men and women who are everyday heroes around the globe, and "are taking great risks to oppose extremists–wherever they spread lies, bigotry and hatred."
Subscribe for latest Videos