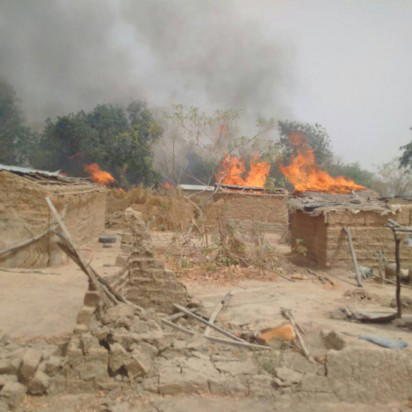 81 Battalion and 251 Task Force Battalion of 25 Task Force Brigade, 7 Division Nigerian Army, razing down the Boko Haram terrorists spiritual power base at the Alagarno forest, Borno State
Nine people were killed and nine others injured when Boko Haram fighters raided two villages in northeast Nigeria, the civilian militia said on Thursday.

Jihadists in pickup trucks attacked Kalari Abdiye and nearby Amarwa, some 20 kilometres (12 miles) from Borno state capital Maiduguri, on Wednesday evening.
"The gunmen, who were obviously Boko Haram fighters, killed nine people and injured nine more in the attacks," Ibrahim Liman, from the Civilian Joint Taskforce (CJTF) told AFP.
"They attacked the villages around 8:30 pm (1930 GMT) when it was raining and people were indoors."
Frightened residents rushed out of their homes but when they did so they were shot "indicriminately", said another CJTF leader, Babakura Kolo.
"The two villages were completely burnt by the attackers," he added, giving a similar toll.
Both villages are in Konduga, a district of Borno state that has suffered repeated attacks in a nine-year insurgency which has left more than 27,000 dead.
Last December six people were killed in a suicide attack on a crowded market in Amarwa, while 10 people lost their lives in April when two female suicide bombers attacked the village.
It was not clear which of the two Boko Haram factions was behind the attacks and there was no claim of responsibility.
Fighters loyal to the group's long-time leader, Abubakar Shekau, have indiscriminately targeted civilians, particularly using suicide bombers and hit-and-run raids.
A separate faction backed by the Islamic state group and known as ISWAP (Islamic State West Africa Province) has focused more on attacking military and government targets.
But more radical elements are said to have taken over the ISWAP leadership, prompting fears of an upsurge in violence against the local population.
On Monday, ISWAP killed a Red Cross health worker who had been kidnapped with two of her colleagues in a raid six months earlier, stoking fears for the other hostages being held.