…As Ikpeazu lauds him for Odenigbo lecture
By Anayo Okoli
UMUAHIA—MOST Rev Anthony Obinna, the Catholic Archbishop of Owerri, has called on the South East Governors to unite and speak with one voice to be able to protect the interest of Ndigbo.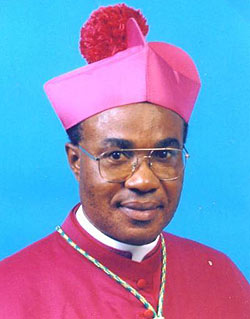 Obinna spoke on a day Governor Okezie Ikpeazu urged the Igbo parents to always teach their children Igbo language even as he commended Archbishop Obinna for instituting the Odenigbo lecture series 27 years ago, aimed at promoting Igbo language.
Speaking weekend at this year's Archdiocesan Day celebration and Odenigbo Lecture Series at the Maria Assumpta Cathedral  Owerri, which had in attendance, Governor Okezie Ikpeazu, Obinna lamented that Igbo leaders are not united in fighting the cause of Ndigbo.
Archbishop Obinna said that past Igbo leaders like late Michael Okpara and others in their era were more passionate in fighting for the interest and protection of their brothers against what obtains today.
According to him, the fate that befell some Igbo youths recently during the IPOB crisis in the South East which led to its proscription would have been averted if the South East Governors, Igbo leaders and the youths are united.
Obinna regretted the marginalisation of the Igbo race and attributed it to partly, disunity among its leaders and called for a change of attitude.
Archbishop Obinna commended Governor Ikpeazu for doing well in office and urged him to continue.
In his remarks, Governor Okezie Ikpeazu stressed the need for parents to teach their children Igbo language.
He charged Ndigbo not to throw away their language and culture as they represent their identity as a people.
The governor commended Archbishop Obinna for instituting the Odenigbo lecture series 27 years ago and called on Ndigbo to imbibe the teachings of Odenigbo as a way of preserving the Igbo culture.