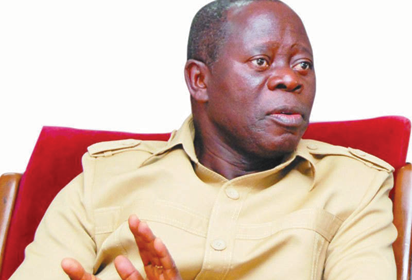 APC National Chairman, Adams Oshiomhole
BY CHARLES KUMOLU
A Presidential aspirant on the platform of All Progressives Congress, APC, Mr. Adamu Garba II, has called on the party's National Chairman, Comrade Adams Oshiomhole to urgently convene a National Working Committee, NWC, meeting with all presidential aspirants in attendance, in order to resolve contentious issues over direct primaries and prices of nomination forms.
He also dismissed fears trailing the adoption of direct primaries, saying it would promote the culture of inclusiveness in APC.
AdamuGarba II, in a letter to Oshiomhole, cautioned against practices that could exclude key stakeholders from party events leading to the general election.
His words: "We call on the National Working Committee to rise to the occasion, by adopting direct primaries which is the best democratic practice for all elective positions on the platform of the All Progressives Congress.
"This will further enhance participation and promote inclusion within the rank and file of the APC. We have observed the recent speculative news on the prices of forms from the Presidency and we consider it to be a dent on the party's effort to attract youth-inclusiveness. We humbly ask that the NWC reconsider and review this
"We request that all subsequent stakeholders' meeting with the President in attendance to include all other aspirants, who have publicly declared their intention to run for the office of the President on the platform of the APC.
"It is very important for the NWC to provide a level playing field for all aspirants in the race.
"The youth demography accounts for over 65 percent of the electorate and also constitutes the majority of the APC machinery. It will, therefore, be counterproductive for our party to have a disposition that does not accommodate the interest and aspirations of young stakeholders within the APC."