Dr. Mrs. Akon Eyakenyi served as minister of lands, housing and urban development in the Goodluck Jonathan administration. Before then she had risen through the political rungs from the local government having served as a supervisory councilor, commissioner and then minister. She is presently a leading contender for the Akwa Ibom South Senatorial Seat in the Senate. In this interview she speaks on the impact of the defection of her one time boss and its failure to get traction on ground. Excerpts.
What is your reaction to the defection of Senator Akpabio from the PDP?
It does not really have a strong negative effect, rather it is helping the PDP members to sit up and be up and doing. Senator Akpabio is a former governor of Akwa Ibom State and he brought a successor in the person of the present governor.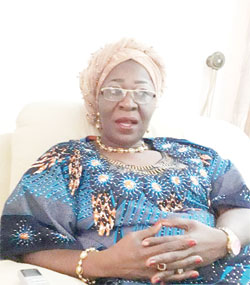 One thing is making one a king and the other is standing by the king to go through his tenure successfully. It is unfortunate that Senator Akpabio took the decision to defect to the APC. He had his personal reasons best known to him; the only thing he said was that he was going to play national politics. I wish him well because he is an Akwa Ibom son. During his time he did well for Akwa Ibom people. His moving apart does not in any way and will not in any way stop Governor Udom Gabriel Emmanuel from doing his second term like he, Akpabio did.
It is God that puts someone in authority and it is only God that can remove you. Yes, God will not come down physically, He uses people.
Udom Gabriel Emmanuel is a divine gift to the people of Akwa Ibom State and so far, I must confirm and confess that he has done well and deserves to continue the good work that he has started. Udom needs the additional four years to complete the works he has started.
Udom has touched lives in Akwa Ibom State, he has fulfilled his promises of industrialization, of inclusiveness, touching education and carried the people of Akwa Ibom State along.
So, it is the right and the will of the people of Akwa Ibom State that Udom must go for a second term in 2019. Not an individual, no one person can claim to be God; it is God that can say that you can sit here and He will remove you. But so far, He has given indication that Udom will return.
The senator's defection does not have any effect on Udom going back. Rather, it strengthens the PDP people to stand up and work extra to ensure that what they want comes to past. Akwa Ibom is a PDP State and nothing will change.