By Omeiza Ajayi
ABUJA – A group loyal to the former governor of Oyo state, Otunba Alao Akala has weighed in on the raging debate in the ruling All Progressives Congress APC as to which voting method to adopt during the forthcoming congresses and primaries of the party.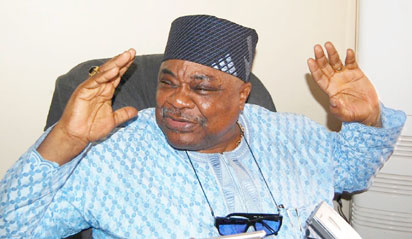 The Akala Support Group said although it was fully prepared for the options of direct or indirect primaries, its main preference is for the former because it involves the people.
Speaking shortly after picking governorship nomination and expression of interest forms for Otunba Akala, leader of the group, Chief Wale Ohu said; "Whichever the party settles for is okay by us, but we know that direct primaries is the best for the party because whatever it takes, it gives an average party member the opportunity to have a say in who flies the tickets of the party at every level. It is commonsense that in a democratic system like this, you should have direct primaries because it gives opportunity to almost everybody. I think it is the best option that one can think of. But be that as it may, what ever we agree in Oyo state, that is what we shall do".
Chief Ohu was accompanied on the visit by Dr Fola Akinosun, Hon. Tajudeen Kareem, Barr. Yinka Lanipekun, Engr. Remi Adepoju and Alh. Yinusa Dakeja among others.
On the chances of there principal at making it back to government, the group said Akala's antecedents speak for him.
"His antecedents. What he did when he was in office for four years are monumental. If you go to Oyo state today and look at the road network in the hinterlands because the state is agro-based, you would marvel. He built a Teaching Hospital at LAUTECH that is of international standard. He established a College of Agriculture which our youths are now taking advantage of. He ran a humane government. His government had a human face and he was approachable by the people", they said.
They described Akala as a humane politician who would approach governance in Oyo state with a 'human face'.
"The Akala Support Group is an embodiment of supporters and political associates of Otunba Alao Akala. Sometimes ago, we came together under an umbrella body to make a clarion call on him to run for governor for 2019.
"This body comprises of artisans, market women, professionals and politicians who appreciated all the things he did in his first tenure and for his human face to governance. They went further to contribute money to purchase nomination and expression of interest forms for him because they were the people who convinced him to run and they mandated us to come and pick the form on behalf of the group", they said.