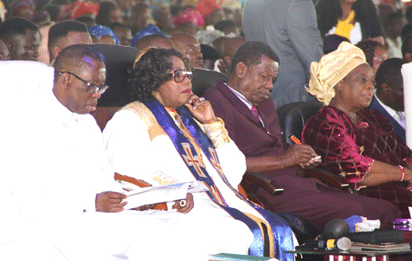 From Left: Delta State Governor, Senator Ifeanyi Okowa, Arch Bishop Margret of Idahosa of the Church of God Mission and Pastor Enoch Adeeboye of the Redeem Church, and his wife Folu, during a thanksgiving service to mark the 50th anniversary of the Church of the Church Mission in Benin City, Edo State.
By Jimitota Onoyume
WARRI— EMBATTLED monarch of Agbarho Kingdom in Delta State, HRM Ajuwe Owhe Ogugu I, Osuivie of Agbarho Kingdom has discribed those battling to unseat him as insignificant.
The monarch, speaking to Vanguard on the sideline of a meeting of community members in his palace, who came to pledge loyalty to him, said those who declared his stool vacant acted outside the law, adding that Okparegbe clan was not behind their action.
According to the monarch, "I was coroneted Ajuwe on May 12 and November 6, given staff of office as First Class king. The dissident groups all acquiesced. In Agbarho, the person who becomes king is not in doubt and the next is known.
"The dissidents have no house in Agbarho. Some are not married and I doubt if they are natives of this town, otherwise how can you want to destroy your own town?"Meanwhile, a letter addressed to the monarch, allegedly by three senior chiefs of Okparegbe sub-clan, said: "Okparegbe clan has declared its independence of the Agbarho Kingdom.
"With this declaration, the famous Agbarho Kingdom is hereby abolished. The Agbarho stool is hereby declared vacant. The palace of the Osuivie of Agbarho is hereby declared vacant.
"The Agbarho town hall is hereby shut down until further notice."
Meanwhile, a resolution reached at a meeting of the kingdom on September 21, allegedly denounced the action of the three chiefs, noting that the kingdom will remains indivisible.