Africa Fashion Week Nigeria started on the heels of its sister partner, Africa Fashion Week London which celebrated its eighth season. A few years ago, African fashion began to gain global momentum, from our prints, to our beats, everyone looked to align with Africans. It became a bigger deal in 2018 with the release of Marvel's Black Panther movie which featured the fictional Wakanda. Nonetheless, everyone wanted to be African or wear African prints.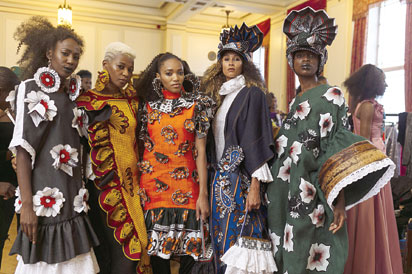 African prints have become so popular globally that top designers such as Vivienne Westwood's Ethical Africa collection, to Burberry, have adapted the African prints in their designs. Even African designers such as Nigeria's Duro Oluwa who has designed African inspired pieces for the former First Lady of the United States, Michelle Obama began getting recognised in the Western world for their designs and phones started ringing with orders.
This motivated the creativity and entrepreneurial zeal which further pushed a lot more Africans who have always had an interest in fashion, to go through with their journey. African fashion brands make use of regional and continental platforms such as fashion weeks held in South Africa, Ghana, Nigeria and London to showcase local talent. The growing awareness of fashion in Africa has inspired more designers to go global and stand strong in the international scene and even do more for themselves in textile manufacturing and distribution.
Ronke Ademiluyi saw a loophole in a growing industry a few years ago and filled that gap; going ahead to create Africa Fashion Week London, AFWL, Europe's largest fashion event promoting and nurturing African and African-inspired design talent. Serving its purpose with the platform it created in Europe, she brought it down to establish in Nigeria, where Africa Fashion Week Nigeria was born.
The AFWN platform in its five years has featured some of the biggest names in the African fashion industry today who grew from the back of the brand, and has continuously provided a stage for emerging designers in Africa to showcase to a global audience of fashion enthusiasts, international media and visitors and attendees. "These numbers continue to rise each year as African fashion continually evolves, the creativity and tenacity we Africans adapt towards our designs shows that Africa isn't taking a break in even breaking the rules. Every edition of Africa Fashion Nigeria Week leaves you feeling overwhelmed by the ambition and the creativity of Africa's emerging fashion industry.
Each year, AFWN works with a theme that resonates the growth of African fashion and its entirety, this helps designers who are mostly inspired by their heritage, and experience which plays into their designs through individual and contemporary interpretation.
Africa Fashion Week Nigeria will celebrate its fifth edition this September and is set to feature over 40 designers from various African countries which include Botswana's Thabied, Adriana Talansi from Congo, Luxury brand Bushai Weave from Ghana, Namibia, Cameroon, Zimbabwe, Zambia, UK and Nigeria.
Being a global platform, beyond its African audience, its doors will be opened to international visitors whose love for African fashion and its bright colours have become incomparable to no other.