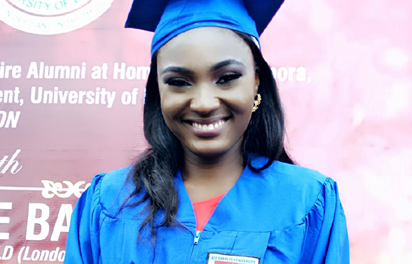 Esther Azom
By Dayo Adesulu
Breaks academics reward jinx
Says, modern facilities help her learning
One of the grave  factors militating  against  development of education in the land is the refusal of many Nigerian billionaires and corporate organisations to reward excellence in the academia. Instead, they take delight in rewarding talents in beauty pageants, Big Brother Nigeria  and Gulder Ultimate Search to mention a few.
However, that jinx was broken recently, when a medical student at Afe Babalola University, Ado-Ekiti, ABUAD, Miss Esther Adaobi Azom was rewarded with a N5.7million brand new car and over a million naira cash for her academic performance.
The youngster, whose life epitomized success became the cynosure of all eyes when it was disclosed during the induction of 34 medical doctors of ABUAD that she maintained distinctions throughout her stay in the university.
Azom, 24 who was admitted to read medicine in 2011/2012 academic session maintained distinctions in all her courses from 100 Level to 500 Level. She also set an academic standard that would be difficult for incoming medical students to match as, she obtained distinctions in Surgery, Medicine and Community Medicine in the final MBBS examinations. With this academics feat, Esther unarguably became the best graduating medical student of the institution.
Having monitored her academics performance from year one, the Founder and Chancellor of ABUAD, Aare Afe Babalola bestowed the N500,000 Founder's Annual Scholarship Award on her. This she received from her 100 Level to 500 Level. What it portends is that, Azom was already a millionaire before she graduated as a medical doctor.
During her induction which took place last week Thursday at the Alfa Belgore Hall, ABUAD, Ado-Ekiti, everyone present wanted to contribute and identify with her success.
Owner of Coscharis Motors, Mr Cosmas Maduka opened the floor with the presentation of N5.7 million car to her. He told the institution that the gesture was his little way of encouraging hard work and excellence among students.
Again, Are Afe Babalola, at the ceremony announced a reward of N500,000 cash for Azom, reiterating that she had distinctions in all the three MBBS courses.
On his part, the Oni of Ife, Oba Adeyeye Eniitan Ogunwusi, Ojaja II who stormed the ceremony with his chiefs and some other first class Obas in Yoruba land, gave her N250,000 and another N1,000,000 to establish ABUAD Medical Doctors Alumni club as a medium to assist the institution and give back to the society. Besides, Oba Dr. Kiladejo, Jilo III, the Osemawe and Paramount ruler of Ondo Kingdom, who is also a medical doctor, gave Esther an undisclosed amount. Just as the Ewi of Ado Ekiti, Oba Rufus Adejuyigbe Aladesanmi III, in the same vein gave Esther an undisclosed amount too.
Apparently, when Esther set out to read medicine at ABUAD six years ago, little did she know that her hardwork would be handsomely rewarded this way.
This gesture from ABUAD and other donors have demonstrated to Nigerians that handsome rewards are not meant only for beauty pageants, Big Brother Nigeria winners, Gulder Ultimate Search winners. It has changed the narrative and indicates that academic success should be handsomely rewarded to encourage hard work and   healthy competition among the youth.
This exceptional youngster who hails from Anambra State was born to a family of four and her siblings are very brilliant, according to her parents.
Esther, while speaking with some journalists said: "My experience as a medical student at ABUAD has been great. "It's been challenging being a medical student, however, above all, you cannot overlook the part God  played in all these activities. "I thank God that in the end it has been wonderful. Now I can only look back and smile."
According to her, hard work and consistency contributed to her academic feat, adding, "In medical school, consistency is key."
Her words: "ABUAD is great, my university is the best. The school impacted my life to make me know that hard work is the key to success. I specially thank ABUAD for all these.
"I always felt I would be the best because I worked towards it.
I want to advise students that hard work pays, keep reading, keep doing what you can, go to a good school and you will never regret it.
"At ABUAD, some  modern facilities available in the Teaching Hospital that helped our learning include the  diagnostic centre which isequipped with  CT SCAN, MRI, X-RAY, Ultrasound 2D, 3D, 4D, Modern Laboratory equipment (supplied and managed by the world-renowned Abbott Laboratory), Five Modular theatres, Pneumatic Tubes connecting 37 Floors, Medical Gas & Oxygen (supplied and managed by Protech Gas) for use of the Hospital and for sale to other hospitals in the country and beyond.
"Medical services available include Accident and Emergency, Surgery, Pharmacy, Paediatrics,   Obstretrics   and Gynaecology, Community Medicine, Physiotherapy, Dentistry, Fluoroscopy, Endoscopy, Colonoscopy, Gastroscopy,   Brochoscopy, Arthroscopy, Bone Densitometer, Pet-Scan, Nuclear Medicine,   Echodardiagraphy,   ECGand   Threadmill   Test as well as Function Test (PFT) among several others."
Asked about her plans, Esther said  housemanship  is the next thing on her mind.
Her mother, Blessing Azom  said: "Esther Azom is an exceptional girl. She has been like that since primary school." According to her, While in primary school, she traveled to South Africa to represent Nigeria in jet competition.
She added: "While she was a little girl, I saw her potential and did my best because I am a teacher too. I did my best to encourage her and ensured that what I saw in her did not die.
"From all that I know, ABUAD is a special school in terms of academics and environment. She is my second born, the first is in the U.K. doing his PhD.
My plans for her is to do her housemanship, youth service and travel abroad. ABUAD is a good   school, but at the same time not a cheap school. I would not start to calculate what we spent here because it's worth it at the end of the day."
On his part, Esther's father, Emmanuel Azom who is a businessman said he was humbled by what he saw at the induction ceremony. He said: "Sincerely, I didn't think it could be of this magnitude. Anyway, I saw this coming especially with Esther because she has been bright right from primary school. "Once you mention Baptist High School, she is a special person there. In her WASSCE, she had 6As."
Asked the role he played as a father to Esther's success, he said his role is like the typical Nigerian man in the running up and down to get the funds for her education. "If there is any human efforts to the academic success of Esther, I would ascribe it to my wife who is a teacher."