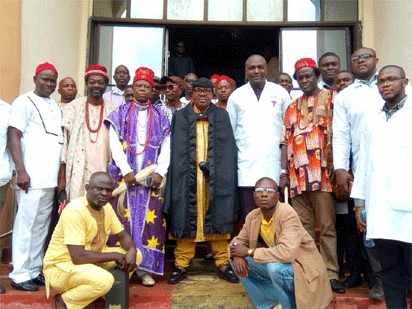 …as Igwe N.N. Kelly commends the quintessential legislator
ANAMBRA- No fewer than 500 persons, weekend, benefited from Hon.Pharm. Obinna Emeneka's free medical outreach in Anambra east.
Ijele Omabala who represents Anambra East Constituency at the State House of Assembly, paid a courtesy visit with his medical team to the palace of the Traditional Ruler of Igbariam, Igwe ( Dr.) N.N. Kelly.
Speaking with Emeneka's medical team, the traditional ruler lauded Hon. Obinna's achievements and extolled his vibrant and innovative exploits at the House of Assembly.
The revered Monarch while thanking the People's Legislator for providing free health care and infrastructural development to communities in Anambra East also prayed God to continue to bless the Humane Parliamentarian in whom his people are well pleased with his unprecedented achievements.
Among notable Igbariam community Leaders who welcomed Hon. Emeneka boisterously include; the President General Chief Ikechukwu Orizu (Omelora), Barr. Barry Ogoegbunam (Obata Obie),Chief Okoye (Odu Igbariam), Mrs. Ekene Onwuegbuka (President General Women Wing),and many others.
They unanimously expressed their gratitude to God for using Ijele Omabala to touch the lives of their people.
However, showing their unalloyed appreciation the community with its Town Union rolled out drums to welcome the trail blazer and presented a Ram to the quintessential Legislator.
In his remarks, Ijele Omabala stated that his investment in free healthcare programmes started in his Youth Service Days in Taraba State. He restated that the ongoing Medical Outreach is designed in such a way that every stage of it, even those that are referred to C.O.O.U Teaching Hospital Amaku, Awka is free.
After what looked like a health lecture centred on cardiovascular diseases by the Pharmacist turned Politician at the palace, a packet of Vasoprin tablet was presented to the host Traditional Ruler.
He also explained that his interest in empowering his people through health care is borne out of his passion for saving human lives which is the most valuable asset that a man can own earth by contributing his own quota in alleviating his people's heavy economic burden.