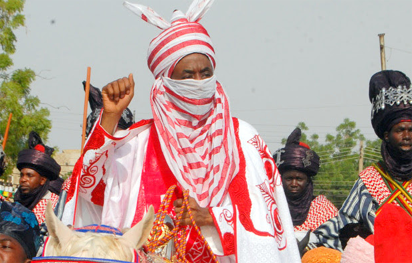 Sanusi
*Say Nigeria's future bleak without women empowerment
By Clifford Ndujihe
THE Emir of Kano, Sanusi Lamido Sanusi II; former President of Malawi, Dr Joyce Banda; first female Senior Advocate of Nigeria, Mrs Folake Solanke, SAN; and former UNAIDS Director, Professor Sheila Tlou, have tasked Nigerians on enduring that more women get elected into offices next year.

Apart from elective offices, they also called for appointment of women into other sensitive positions in all sectors arguing that the future of the country is bleak without women empowerment and effective participation in governance.
They spoke, Thursday, at the fifth memorial lecture of former Ondo State Governor, Dr Olusegun Agagu, organised by the Olusegun Agagu Foundation, OFA, in Lagos.
They spoke as the Ondo State Government, which was represented by the Deputy Governor, Bola Ajayi, eulogised the late politician and promised to complete all the projects he started that were abandoned by the past administration.
Specifically, the speakers canvassed gender equality, deliberate efforts to end discrimination against women, girl child education, and economic empowerment of women to enable them participate actively in nation building.
Emir Sanusi, who chaired the lecture, reeled out heartrending statistics of the poor state of women in Kano and Nigeria at large, and regretted that despite constituting more than 50 per cent of the population and vote more at elections, women don't get a fair share in terms of socio-economic and political empowerment.
He said as we approach the 2019 general elections, the topic – "Women: A Needed Force in Politics and Polity," was germane because "given the large number of women, it is a shame that women do the voting but are not part of the discourse. We need more women, who will fight for women issues not those who will get to power and stop other women from rising."
Disclosing that 58 per cent of children under five years in Kano suffer from malnutrition; 17 per cent suffer from acute malnutrition, which is 61 per cent in some states; 48 per cent of women of child bearing age are anaemic of iron deficiency; one out of every three children in Nigeria is stunted; Nigeria accounts for 20 per cent of stunted children in Africa, and seven per cent in the world, Sanusi linked these developments to discrimination against women and lack of empowerment.
"How many states in Nigeria have budgets for malnutrition? You say a woman should breastfeed for six months, is she going to breast feed without eating? If we train a girl child in school and she does not start having babies at 12, some of these negative indices will not be there.
"If a woman is not ready to fight for women issues, she is worse than a man. The hottest place in Hell should be reserved for women who get to political office and refuse to protect the interest of women," he said.
Speaking in like manner, Dr Banda, who noted that women have 69 per cent of the seats in the Rwandan parliament, which is the highest in the world, regretted that Nigeria has one of the least percentages in the world, and urged a change of the scenario.
She advocated engagement with men instead of confrontation and abuse to address the challenge of women empowerment.
Professor Tlou concurred and admitted the numerous hurdles to women empowerment, adding however, that "when spider webs unite, they can tie a lion."
Mrs Solanke, 86, who delivered the keynote lecture, recalled how women fought against women discrimination in different parts of the world, sought support for Mrs Remi Sonaiya who is aspiring for the presidency in 2019 and other women running for various offices.
Canvassing gender equality, she said it is when women have equal participation in politics with men that they can do more to the benefit of the country.
Without empowerment, she argued that it is difficult for women to have the capacity to add value to good governance.
Other people who spoke at the lecture were former Deputy Governor of Lagos State, Alhaja Lateefat Okunnu and Mrs Bola Obasanjo, who represented former President Olusegun Obasanjo.