By Dirisu Yakubu
ABUJA – A chieftain of the Peoples Democratic Party, PDP, has accused Presidential aspirants on the platform of the party of deliberate marginalization of the South-West geopolitical zone in their quest to run for the highest office in the 2019 general elections.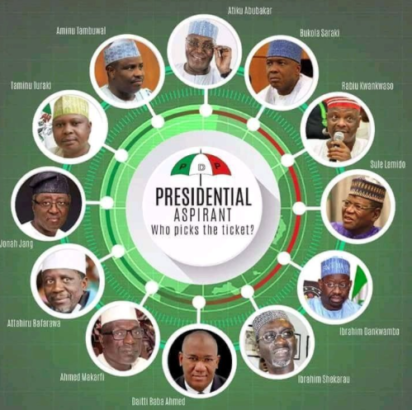 The chieftain who spoke with Vanguard exclusively yesterday in confidence said none of the 13 aspirants has so far displayed an inclination to pick a running mate from the South-West; a development he described as a wrong permutation.
Speaking on condition of anonymity, the PDP stalwart added that while the zone would go the whole distance to ensure victory for the party in 2019; anything short of the Vice Presidential slot, he stressed, will not be acceptable to the people.
https://www.vanguardngr.com/2018/09/activities-resume-in-enugu-apc-office/
"They (aspirants) are making a serious mistake. In December 2017 during the elective convention, the South-West was shortchanged and denied the opportunity of producing the national chairman.
"Elections are around the corner and none of them has shown readiness to look at the South-West for a running mate. This portend crisis for the party and I make bold to say that since the leadership of our party zoned the Presidency to the North, anything short of the Vice Presidency will not be acceptable to the South-West.
He called on the National Working Committee, NWC, led by Prince Uche Secondus not to forget the role played by the zone to the growth of the party since its formation in 1998.
According to him, no reason is good enough to deny the zone the Vice Presidential slot even as he claimed that the grip of the All Progressives Congress, APC, in the zone would be over in 2019.
"APC will be sent packing in 2019 and to do that, the PDP needs the South-West. Even though they say we lost Ekiti, the whole world knows we won and if not for their manipulations, the story would have been different. All the same, we are sure of reclaiming our mandate in the court.
"We again demonstrated strength in last Saturday's governorship election in Osun state. PDP is back to take power in the whole of South-West and one can only wish that the aspirants are being well guarded," he added.
https://www.vanguardngr.com/2018/09/osun-omisore-lasun-brides-of-the-rerun/
The party is set to conduct its national convention on October 6, 2018 where the Presidential candidate will emerge from the over a dozen contenders currently in the race for the sole ticket.