Daura (Katsina state) – A Katsina state-based NGO, Daura Emirate Youth Progressive Movement (DEYPM), says it earmarked N 70 million to prosecute the electioneering campaign of President Muhammadu Buhari and Gov. Aminu Masari toward the 2019 general elections.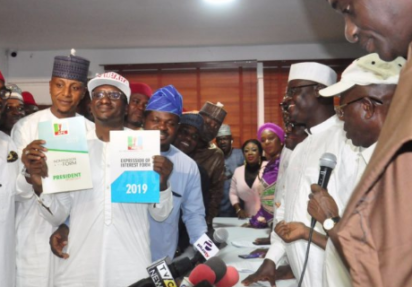 Alhaji Abdulkadir Lawal, the Zonal Chairman of the NGO, made the disclosure in an interview with the News Agency of Nigeria NAN in Daura on Saturday.
Lawal said that out of the amount, N40 million would be spent for the presidential campaign for Buhari and N30 million for the re-election of Gov Aminu Bello Masari.
He said the money was sourced from contributions from individuals, groups and organisations with a view to facilitating the electioneering campaigns of the two political office holders.
Lawal explained that the money would be spent on hiring of vehicles, provision of logistics and other necessary campaign activities within the five local government areas in Daura emirate.
He said the movement arrived at such decision, considering the socio-economic development brought to the people of the area by the Federal and the State Government in the area in the last three years.
The zonal chairman listed some of the socio-economic developments to include a Federal University of Transport, Air Force wing and Army unit in Daura.
He also said that the state government had impacted positively in the lives of thousands of people of the area, especially through its youth empowerment programmes, construction of more roads, schools and hospitals among other programmes.
Lawal said,"we never had it so good."
He said the group had earlier decided to use the money to purchase nomination forms for president Buhari and Gov Masari but it overtaken by events and the decision of other well meaning Nigerians.
Lawal said the NGO therefore decided to channel the money into other political programmes that would promote the electioneering processes in 2019.
He commended the group of well meaning Nigerians who purchased the nomination forms for President Buhari and members of the Katsina State Traders Association for extending similar gesture to Gov Aminu Masari.
The News Agency of Nigeria NAN reports that the NGO has been in the vanguard of championing the second term of Buhari Masari. (NAN)
BKD/DUA