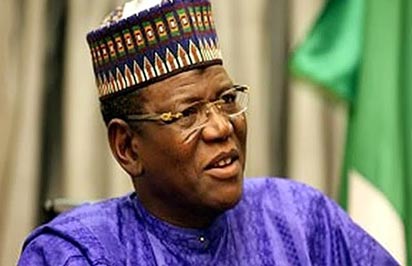 Sule Lamido
By Dirisu Yakubu
ABUJA- Erstwhile governor of Jigawa State and Presidential hopeful under the Peoples Democratic Party (PDP), Sule Lamido, Tuesday, carpeted ex-Vice President, Atiku Abubakar, for asking him (Lamido) to step down for him ahead of the Presidential primaries.

Lamido who denied accepting to step down for Atiku, said he was already a member of the Federal House of Representatives in 1979 when former vice president was an employee of the Nigeria Customs Service (NCS).
Atiku had on Monday reportedly called on Lamido to step down for him ahead of the October 6 Presidential primary of the PDP.
The former Vice President had made the call in the PDP secretariat in Dutse, the Jigawa State capital during his visit to the state as part of his tour to rally for support for his aspiration.
Atiku while referring to Lamido as his younger brother, related the incident with what happened in 1993 election under the Social Democratic Party SDP in Katsina state when Umaru Musa Yar'Adua stepped down for his elder brother, Shehu Musa Yar'Adua.
But reacting to Atiku's statement, Lamido who spoke through his media aide, Adamu Usman, said: "While it is true he is older than me age wise, I'm senior to him politically because I was in the House of Representatives in 1979 when he was an employee of Nigerian Customs Services. And if age is the criterion for standing election, then he should drop out for Buhari.
"Despite all odds, Lamido has been patient, loyal, committed and consistent. Even if Lamido did not show interest to contest, PDP should have called Lamido to be the flag bearer and if there is anyone the other aspirants should step down for, it should be Sule Lamido because he has the good and political will, experience and capacity to confront the ruling party, the APC.
" If Lamido is to step down, why would he aspire in the first place? Sule Lamido is out to run for the president come 2019 God willing," Adamu stated.
Lamido's outburst is a pointer to the friction currently playing out between the Presidential aspirants and the Board of Trustees of the party over their opposing stand on the issue of consensus candidacy.