By Chris Ochayi
ABUJA – A renowned banker and governorship aspirant under the platform of All Progressive Grand Alliance, APGA, in Abia State, Chief Alex Otti, says he was in the race to reclaim the state from grip of tiny minority holding it hostage at the detriment of Abia people.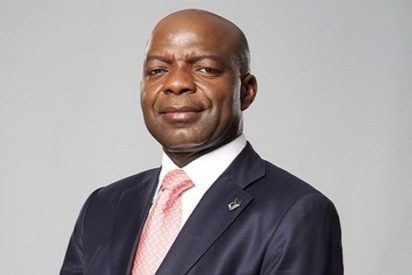 Chief Otti, who made the declaration, while addressing newsmen in Abuja, said the present government in the state has failed completely.
Otti added that due to its inability to add anything to the rot it inherited in 2015, the people of Abia State have resolved to vote out incumbent Governor Okezie Ikpeazu from office during the next year's general elections.
According to Otti, who in the course of last week picked APGA's N10 million expression of interest and nominations in readiness to battle Ikpeazu for the governorship position, "The present government in Abia state has failed; they have added virtually nothing to the rot that Abia was before they came in 2015.
"So the battle in Abia state is not necessarily who will take power, I think it is a battle between a few people who have held the state hostage and the whole people of Abia state.
"And the people who have held Abia state hostage are in the minority, they are less than 1%, they are the godfathers, the godsons, the people who have dominated leadership at the expense of the people and the people have realised it and that is why they are giving us massive support.
"So the battle is about reclaiming Abia and taking it back and giving it back to those who own Abia and we are very confident that in less than one year that that will happen."
On what agitating his mind and he can do different, Otti said, "Well the first thing is good governance and good governance is a wide concept but we will start with a transparent management of the resources of the state.
"we believe the resources of the state are not being transparently and efficiently managed and we will start from there.
'The next one is to create a conducive environment that is required for our people to do well; our people are very energetic, entrepreneurial and highly skilled.
"But you cannot go too far with all those visions and intension if the enabling environment is not there to encourage those skills to be developed.
"So when you get to a place like Aba, which is the largest town in Abia state, you will start with the roads and they are virtually no roads, the environmental sanitation is at its lowest ebb, power is non-existent, insecurity is the order of the day, even pipe bore water is non-existent, people cannot access their shops because there is no road.
"Now that the rains are coming, most places have become inaccessible and people are leaving in very harsh conditions and they are looking forward to do those because it is the work of government to provide infrastructure and where infrastructure is not provided because go elsewhere.
"A lot of businesses that used to exist in Abia state particularly in Aba and Umuahia have all disappeared because they cannot profitably operate and they are not sure of security, they are not sure of anything.
"So the beneficiaries are towns like Port Harcourt, Lagos, Abuja, Enugu, Onitsha and even in Akwa Ibom, in Uyo and Ekot Ekpene, they are the beneficiaries of businesses relocating from Abia state.
"So, we are going to reverse that by putting infrastructure in place and create the enabling environment to see if we can attract those businesses back and most importantly to create a new businesses for our people."
Giving insight into his programme on education and health for the state, he said, "Education is so important particularly to people like us who come from very humble homes and humble beginnings and without education we would probably not be here today talking about purchasing forms and contesting for governorship.
'And my view is that if people like us who came from humble beginnings can get here because of education, then we owe a duty to our youth and our people to also provide good quality education so that they can become like us in the near future.
"So I would invest massively in education in terms of upgrading infrastructure, in creating the curricular that are modern and can fit into the ever changing world and most importantly investing in teachers and updating their skills so that we can have our schools function like schools in the 21st century.
"Today if you go to a typical school in Abia state you would be sorry for the conditions under which our children are learning. So it requires investing money massively to operate the quality of education.
"On health, it is a problem that is nationwide; statistics shows that today over a billion dollar is spent on an annual basis on medical tourism to foreign countries.
"Sometimes they receive questionable health care from these countries from hospital and health facilities that are not very sophisticated.
"So just think of investing half of that on an annual basis, you would be amazed at the kind of health care delivery system you will have in Nigeria.
"For me in Abia state, one of the things I have told our people I would do is to set up a well equipped specialist hospital in each of the three senatorial zones and also to ensure that our general hospitals become functional again and we attract the right quality of doctors.
"You would be amazed at how many of our sons and daughters are out of the country doing very well in the medical field.
"Today if anything happens to you in any part of Abia, there is hardly any hospital you can go to. If you go to the general hospital in Aba it was closed for several months but I think it has been reopened.
"The doctors are not paid and if you go to the one in Umuahia it is the same, other than the FMC in Umuahia there is nowhere else you can get good medical facilities in Abia state; so it is a major heading for me that I would like to invest a lot of money in to turn it around.
Promising to addressing insecurity challenge in the state if voted into power, Otti said, 'Security is so fundamental because every other thing depends on security.
"Even some of the companies that relocated it is because of kidnappings and it happens because our youths don't have any job to do and when they are reduced to that level when they have to fend for themselves some of them take to criminal activities.
"So if you take them off the streets, it is one way of ensuring that you have a better security in the environment."