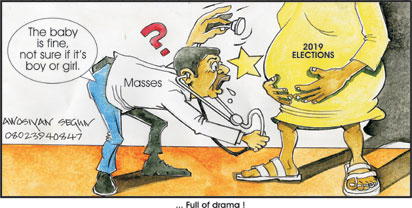 Election
By Bashir Bello
KATSINA – A senatorial aspirant and one time Senator representing Katsina Central Senatorial district, former Senator Ibrahim Idah has declared interest to run for the Senatorial seat in the 2019 general elections, stating categorically that he is going to the Senate to reinforce the support base of President Muhammadu Buhari.

This was as he said the late Senator Mahmud Kanti Bello and himself did same by standing their grounds against all odds for the late President Umaru Musa Yar'Adua at the Senate while promising to do same and more for Buhari.
Senator Idah disclosed this when he visited the ruling party, All Progressive Congress, APC Chairman, Alhaji Shittu Shittu at the party headquarters to declare his intent to join the race.
According to him, "I was in the Senate from 2007 to 2011. And I have represented the zone. I will do much, much better than I did before. And I want to also ensure that the National Assembly supports the President in all he does. Support the party programmes with a bill implemented by the President.
"If elected my priorities would be firstly to facilitate developments from the Federal government to impact positively on the people of my senatorial district.
"Secondly, I am interested in getting the young people especially employed. During my first tenure, I was able to get 1,800 youths employed. And most of them have also helped others to sustain their families.
"I also have as priority to ensure that the President gets the representation and the support he needs in the National Assembly.
"Myself and late Senator Kanti Bello stood our ground for Yar'Adua. I'm going back to do same and even more.
"I am not happy with the face-off between the President and Senate," Senator Idah said.
Responding, the State Party Chairman, Shittu Shittu disclosed that so far five persons have shown interest.
Shittu however promised fair playing ground for all while urging the aspirants to shun politics of bitterness and hatred but strive to mobilize and get the support of the people to emerge victorious at the end of the day.
Earlier, and in another development, Senator Idah also flagged off launching of a cash assistance concealed in envelopes to over 7,000 beneficiaries from 116 wards from the 11 local government areas that made up the Katsina Central Senatorial district of the state.