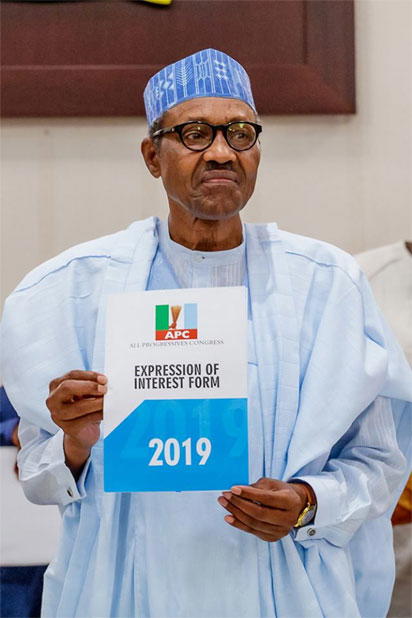 President Muhammadu Buhari displaying the APC 2019 Presidential Expression of Interest and Nomination Forms during the official handover of the forms by members of the Nigeria Consolidation Ambassador Network at a colourful ceremony at the State House Banquet hall, Presidential Villa, Abuja. Photo by Abayomi Adeshida 11/09/2018
THE re-election campaign of President Muhammadu Buhari has received a boost with the support of a pan-Nigerian youths organisation, Dynamic Youths Organisation of Nigeria, DYON, which has started mobilising youths nationwide.
In a statement by Chief Elvis Obiekwe, President of DYON, the youths said they were impressed by what President Buhari had done in office and therefore are out to ensure his re-election.
Obiekwe said a close look at the policies of   President Buhari's government "shows that what is being done at present is provision of immediate panaceas to the many decades of decay in the system."
According to him, the second tenure of Buhari would bring about continuous progress "and the gains of the last three and half years would not only be consolidated but also improved upon."
Listing the areas the Buhari government has done well, he said: "The agricultural sector has improved tremendously and this is evident in the rise in agricultural export in Nigeria from  N60.7 billion in 2015 to N170.4 billion in 2017. Records from the National Bureau of Statistics (NBS) show that rice production alone went up from 1.5MMT in 2015 to 4.5MMT in 2017. On the other hand, rice importation has shrunk from 644,131 in 2015 to 21,000MT in 2017."
President Buhari felicitates with Oba Adedokun Abolarin at 60
On the power sector, DYON said: "This government has shore up both generation and transmission, which will support private sector-led industrial revolution that will take in skilled youths in productive employment."
The power generation has moved from 3,000 megawatts in 2015 to 7,124 megawatts in 2018, while transmission was boosted from 2,690 megawatts to 5,550 megawatts within the same period."
The group said the Federal Government anti-corruption fight, which has led to "blocking of wastes and leakages has made the national economy more robust as the nation's external reserve has increased to USD47 billion from the USD28 billion that President Muhammadu Buhari inherited. The economic progress is further encouraged by restoration of integrity and transparency among Ministries, Departments and Agencies of Government (MDAs.)"
Obiekwe said remittances to the federation account by MDAs, such as "Nigeria Customs Service, Nigerian Ports Authority, Nigerian Maritime Administration and Safety Agency, Federal Inland Revenue Service, Federal Airports Authority of Nigeria, Joint Admission and Matriculation Board, among others have increased," adding that Nigerians "respect among global comity of nations has increased, as there is no room for corruption and stealing with impunity."
DYON said President Buhari is not pursuing an Islamic agenda, declaring: "We therefore call on the detractors of this government, especially those who are sponsoring killings and other forms of crime against the Nigerian state and its people to have a rethink, otherwise the strong security network of this government would soon catch up with them."
Obiekwe called on youths and Nigerians at large to massively support and work for the re-election of President Buhari, as a sure way "to secure our future and that of our children."
He said Buahri's second term would "ensure consolidation of the gains achieved presently towards achieving full economic stability, social security and growth built on strong and robust institutions that would stand to hold every citizen accountable.
"This is what is needed in Nigeria and as it stands today, it is President Buhari that has the capability to put Nigeria fully on track."
He commend President Buhari "for his resilience, steadfastness and consistent character of integrity and forthrightness," saying "Mr. President should continue the good work that he is doing, as the youths of Nigeria are with him."