By Olasunkanmi Akoni
Senator Gbenga Ashafa, representing Lagos East senatorial district, earlier today, obtained the senate expression of interest and nomination forms under the platform of All Progressives Congress, APC, for another term in the 2019 general polls.
This came ahead of the APC primaries scheduled to hold on September 26, 2016. 
Ashafa who was accompanied to the national secretariat of the APC in Abuja by party leaders from Lagos East, teeming supporters, family friends and well wishers, urged registered members to turn out en masse at the primaries on September 26th to elect their leaders in a free and fair contest, particularly himself.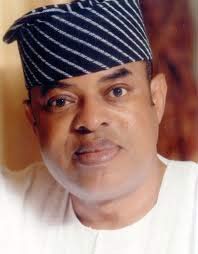 He also seized the occasion to pay a courtesy call on the National Legal Adviser of the party, Babatunde Ogala, whom he described as a very devoted and industrious legal practitioner and party stalwart.
Ashafa who currently serves as the Chairman of the Senate Committee on Land Transport seized the occasion to thank everyone for their massive show of support and steadfastness over the years. 
He reaffirmed his belief in the power of the people as expressed through the ballot and urged them to maintain the same passion with which they voted him into office in 2015.
He said: "I would like to urge you all to be responsive to this great power that you hold – the power of choice. To be able to choose is a power so great that the consequences of its use, or misuse, are always life-changing and defining. Year after year, since 2011, I have kept faith with you as your senator in the 7th and 8th sessions of the National Assembly. 
"Through your contributions at our various townhall meetings and constituency outreaches, you have also kept faith by showing support and offering constructive criticisms which have helped to make me a better lawmaker and also make Lagos East a shining example of what it means to have a responsive senator."
Senator Ashafa however, showered accolades on the National Leader of the APC, Asiwaju Bola Ahmed Tinubu and the APC National Chairman, Comrade Adams Oshiomhole. 
He commended them for living up to the democratic tenets that had defined their journey as progressives and enjoined all APC members living in Somolu, Bariga, Kosofe, Ibeju-Lekki, Ikorodu, Epe, Agboyi-Ketu, Eredo, Igbogbo-Baiyeku, Ijede, Imota, Ikorodu-North, Ikorodu-West, Ikosi-Isheri, Ikosi- Ejinrin and Lekki to emulate such tenets and turn out en masse at the primaries on September 26th 2018 to elect their representatives for various positions.