By Providence Emmanuel
All is now set for the 2018 edition of the annual Olojo Festival, even as the  Ooni of Ife, Oba Enitan Ogunwusi harped on the importance of upholding cultural heritage in the nation.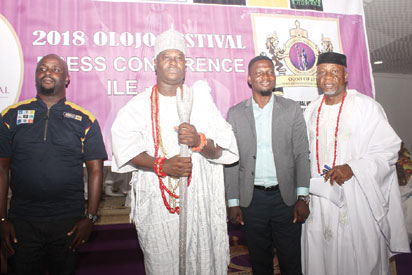 According to the organisers, this years' festival themed: The Olojo Festival: An Impactful Domestic Tourism Product, is scheduled to hold from Tuesday, September 18 to Monday, October 1, 2018 at Ile-Ife in Osun State with many events for each day.
Speaking at a media briefing at the Ooni's Palace in Ife, Oba Ogunwusi stated that the festival is a medium to make the world realise the significance of upholding the strong heritage and culture of the Yoruba race.
According to the culture- loving monarch: "We want to use this medium to make the world know again that what we are doing is upholding the strong heritage and culture of the Yoruba race. We want to keep it intact, we do not want anything to dilute our tradition and inheritance from our race.
"Despite the fact that we have been misconstrued as a race of idol worshipers, we are not idol worshipers, we only give honour to all the divine spirits that were in existence before humanity, they all lived and gathered at the centre of the world which is where the yoruba race is located."
Continuing he said: "We understand the strong difference between divinity and humanity.  It is only in Ife that this festival is being celebrated and it is the festival of god almighty. It is a celebration of god himself, because he is the god of the day. It is a mysterious day where all the forces of nature communicate with the entire human race.
"In essence, the festival is to uphold the culture and nature of the Yoruba people. It is one Yoruba all over the world. The second largest black race in the world, has just officially put Yoruba as their official means of communication.
Finally, he noted that "Ife is no doubt the cradle of human existence. History, science with empirical knowledge, biblical and quranic discoveries on creation, dated back tens of thousands of years ago ascribed the ancient town, Ile-Ife, with its symbol of authority as the source of mankind, he said."
However, he commended the palace chiefs, priests and sponsors who were present at the briefing, including Bet9ja, MTN, Goldberg and Seamans Aromatic Schnapps.
In his remark, Chief Festival administrator, Otunba Ayo Olumoko, said the festival would drive tourism in Ife in view of the grand resort being housed on 252 acres of land which is on the outskirts of the Oba's palace.