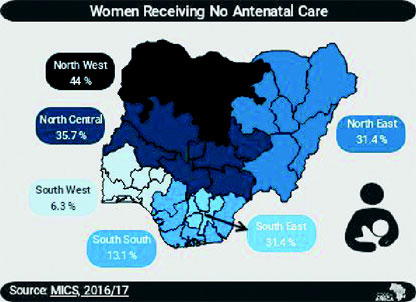 By Chioma Obinna 
Bola Adesanya, 28, knew that something was wrong when her contraction started. By the time she was taken to the nearest hospital, she was bleeding profusely. The health facility where she was taken could not handle her case, so she was referred to a General Hospital. But just like many Nigerians who detest the poor attitude of the personnel at government hospitals to their work, Bola ended up in another private hospital.
After a few hours, the hospital equally referred her to General Hospital. On getting to the General Hospital, however, it was too late. The doctors there did all they could to save mother and child but both died due to complications arising from obstructed labor.
"If I had known, I would have taken her to General Hospital straight. Bola was bleeding so much. I was confused", said Femi Adesanya, the woman's husband. The Adesanyas' case is not an isolated in Nigeria. It is, in fact, something that happens virtually on daily basis. To attest to this, the 2013 National Demographic Health Survey, NDHS, put Nigeria's maternal mortality rate at 576 per 100,000 live births which is not anything better than earlier NDHS rate of 545 per 100, 000 live births in 2008. Further revelations by Bola's husband showed that she never attended antenatal care, ANC, throughout her nine months of pregnancy.
Bola is one out of over one-third of Nigerian pregnant women who do not attend antenatal care (ANC) during pregnancy, according to a study published in BMC Pregnancy and Childbirth journal.
However, a woman dying as a result of complicated births has almost become a norm in Nigeria. The country's health indices have remained a concern. A look into several surveys and national reports shows a gloomy situation and reveals that nothing seems to be changing over the years despite efforts made to reduce mortality among mothers including the failed National Primary Health Care Development Agency, NPHCDA, and the Midwives Service Scheme, MSS, established specifically to curb the country's poor record regarding maternal and child health outcomes.
According to a joint report by the World Health Organization, WHO, United Nations Children Fund,
UNICEF, and the World Bank in 2015, Nigeria recorded a total of 58,000 maternal deaths, making the country 4th highest with an unacceptable number of maternal deaths. Currently, Nigeria contributes about 15 per cent of the annual total global deaths which represent two percent of the global population.
Other reports like the NDHS also show that the country has never recorded significant reduction in maternal deaths despite setting a target to reduce it to 125 deaths per 100,000 live births by 2010.
Today, eight years after, many women are still losing their lives to severe bleeding.
Findings by Sunday Vanguard show that the situation has worsened by a number of issues. Although top on the list is low antenatal care visits among women and hospital delivery, there are other contributing factors such as delays in medical attention due to barriers of distance and attitude of health workers. For instance, the 2016/2017 Multiple Indicator Cluster Survey, MICS, reveals that about 31.6 per cent of Nigerian pregnant women had no antenatal visit during pregnancy.
The report shows that in North Central, 35.7% of women did not make any visit to either traditional health care or modern healthcare, North East 31.4%, North West 44.0%, South East 7.3%, South-South 13.1%, and South West 6.3%. Also, the report reveals that only 37.5% women delivered in the hospital. For instance, North Central 44.4% of women delivered in hospital, North East 25.8%, North West 17.8%, South East 87.5%, South-South 66.8%, and South West 76.6%. According to a midwifery consultant, Dr Diana du Plessis, ANC boosts awareness that can help to prevent complications.
"A small minority of pregnant women develop complications such as hypertension and diabetes. If they are under the watchful eye of a health care provider, such complications will be picked up early and the patient will be monitored and treated accordingly", she stated.
"Antenatal classes help women gain insight and get fact-based information on their pregnancy, birthing options, breastfeeding and caring for your new baby, so you can make informed choices. ANC is an important component of maternal health and covers a wide range of activities with huge potential benefits for positive pregnancy outcomes. Sadly, in Nigeria, large proportions of pregnant women do not initiate ANC early enough, resulting in adverse consequences.
"Although, there are other contributing factors such as delays in medical attention due to barriers in distance and the attitude of health workers, low antenatal visits among pregnant women contribute to larger percentage of maternal deaths".
Meanwhile, some health watchers say having adequate skilled health workers at every level of care would relieve the situation where Nigerian women lose their lives to pregnancy and child-related causes. Many Nigerians have expected that the country would have made progress with the implementation of the MSS initiative which best practices identified as a strategy to overcome challenges of shortage of skilled health workers in the rural areas. Sadly, like every other good policy, Nigerians are yet to see the effectiveness of the scheme despite the funds invested in it.
According to WHO, maternal mortality refers to the death of a woman while pregnant or within 42 days of termination of pregnancy, irrespective of the duration and site of the pregnancy, from any cause related to or aggravated by the pregnancy or its management, but not from accidental or incidental causes. Maternal Mortality Ratio, MMR, and Maternal Mortality Rate, MMR, are terms used interchangeably to indicate performance. In the 2015 report jointly carried out by WHO, United Nations Population Fund, UNFPA, UNICEF and World Bank, Nigeria recorded 58,000 maternal deaths. According to the report, some of the factors are diverse including education, culture, religion and lack of access to skilled health workers and necessary drugs and flawed government policies. They also fear that as interesting as the matter appears to be anytime it is mentioned anywhere, maternal mortality has remained a recurring issue in the health sector.
As regularly as it gets attention, efforts to tackle the menace have, over the years, either shown minimal result or not working at all. In a presentation at the Annual Faculty Day Lecture of Faculty of Public Health and Community Medicine, National Postgraduate Medical College of Nigeria, held the theme, 'Transition in Global Health Paradigms: What Hope for the Nigerian Women and Children?', Dr Olusola Odujinrin said MMR statistics from Nigeria needed to be given immediate attention, warning that the country might be on the brink. According to Odunjinrin, the progress in reducing MMR has been too slow.
NDHS reports for 2008 and 2013 reveal that Nigeria achieved practically no reduction in MMR. "Lifetime risk of dying from pregnancy-related causes according to NDHS reports also showed practically no change. With this, we all need to join the vanguard of making Nigerian women lives a meaning, if we don't want to be on the brink," she said.
The expert said that poor medical facilities in Nigeria were a hindrance to the attainment of the MDG Project, adding that the country's policy makers needed to "roll up their sleeves."
Said Odujinrin,"The overall contribution of poor quality health services is the huge burden of MMR in Nigeria, as revealed in the various situation analysis and assessment is alarming. There is a need to tackle the huge challenges and perform better in the Sustainable Development Goals, SDGs, in relation to MMR under Goal 3.
"It is imperative that we have a national focus in providing quality healthcare facilities and our efforts should be dedicated to ensuring high quality care to our mothers and children."
To her, it is not that Nigerians are bereft of ideas, but they lack the political will and financial commitment to tackle the problem.
Corroborating Odujinrin's position, Mrs Agunloye Oyebola said that, globally, about 350,000 women die yearly of preventable complications during childbirth with developing countries like Nigeria having a large share of the deaths.
According to her, in Nigeria, every day, approximately 2,300 under-five-year-olds and 145 women of childbearing age die. Oyebola blamed the high number on direct causes like complications of pregnancy, delivery or their management, like hemorrhage, obstructed labour and induced abortion while indirect causes are medical conditions aggravated by pregnancy or delivery like heart diseases, hypertension, diabetes, hepatitis and unrelated causes like death resulting from accident.
She identified underlying factors to include, poor/ill-equipped health services, lack of access to maternal care, poor/inadequately trained personnel, poor facilities, socio-cultural factors: gender discrimination, child marriage, social status, illiteracy, traditional/religious believes, and inequality. The expert identified the ever increasing population of the country and poor budgetary allocation as contributing factors to maternal mortality. "In Nigeria, the health budget is approximately four percent of the 2018 proposed budget, which falls very short of the set-out target", Oyebola added.
To tackle the problems, a midwife with the Federal Medical Centre, Owerri, Mrs Daisy Opara, who blamed most of the deaths on the late start of antenatal, said there is need for more awareness on the benefits of antenatal care.
"No matter the investments government puts into maternal health, if women are not monitored, it may be an exercise in futility. These women need to be monitored and if a problem like hypertension is detected early, it will be managed accordingly."
Health watchers believe that with an MMR of 576 maternal deaths per 100,000 live births, the time is now to reflect and begin to ask pertinent questions on what needs to be done right and what was done wrongly. What can be done before the release of this year"s NDHS to reverse the trend of MMR in Nigeria?
This story/investigation was made possible with support from Code for Nigeria via the Naija Data Ladies Programme.