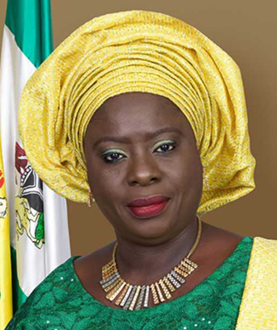 Yetunde Abosede Onanuga
Yetunde Abosede Onanuga
By Michael Eboh & Gabriel Ewepu
ABUJA- THE Nigerian Institute of Management, NIM, has accused President Muhammadu Buhari of marginalizing about half of Nigeria's population over his failure to appoint significant number of women into his cabinet.
Speaking at the Annual Women in Management and Leadership Conference, WIMLEAD 2018, in Abuja, President and Chairman of Council of the NIM, Professor Olukunle Iyanda, lamented that women are consistently under-represented in the top management and decision-making positions in both the private and public sectors of the Nigerian economy.
He said, "The story is generally the same with  respect to appointive leadership offices. Women accounted for about 33 per cent of President Jonathan's cabinet while the corresponding figure in President Buhari's cabinet has declined by almost 50 per cent to 19 per cent.
He noted that in the private sector, women accounted for an average of only 22 per cent of Board positions and 15 per cent of executive positions in companies listed on the Nigerian Stock Exchange, NSE.
According to Iyanda, the percentage of women in leadership positions in the various industrial sectors is similarly low, varying from a high of 19.66 per cent in the telecommunications industry to a low of 12.2 per cent in the energy sector.
"It is therefore, obvious that the discrimination against women and their consequent under-representation in leadership positions negate the development process. It is thus in the interest of any organization or country, indeed of humanity to ensure an equitable representation of women in their top decision-making and management positions."
Also speaking, Deputy Governor of Ogun State, Mrs. Yetunde Onanuga, declared that the current reforms in Nigeria's socio-political arena could only be sustained and improved upon only if women are given level playing ground along with their male counterparts, and if women are also empowered to take their rightful position in the scheme of things.
Onanuga, who is the keynote speaker at the event, further stated that at the present stage of Nigeria's national development, the country needed disciplined, knowledgeable and highly committed women who would continue to positively influence the socio-economic and political fortunes of the country.
She said, "We need not wait endlessly for the full implementation of the National Gender Policy of 2006, which ceded 35 per cent of political leadership mandates to women. To achieve greatness as a country, we need a logical balance of men and women in leadership roles.
"There should be gender diversity in the management of our societies. And for women to continue to play positive roles in the country they need continuous exposure and training across all professions and field of knowledge.
"Therefore, it is only by this that we can guarantee not only our status as an important stakeholder in the global politics but also gain an edge, more and above our male counterparts, in this world of opportunities."
Continuing, she added, "I must say that women are better managers and we need not be discouraged and intimidated by male dominance, which in itself is the effect of our pre-colonial misconceptions against women, but that   will soon disappear in this contemporary world of opportunities.
"We are mothers and we are professionals: that is the edge we have in this world of opportunities, she said."