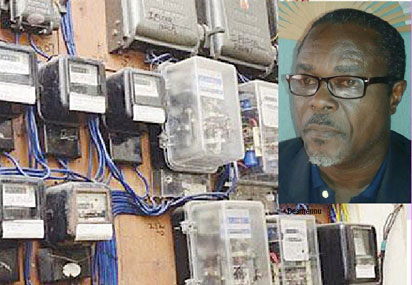 By Ebele Orakpo
Mrs Adetunji, a lone occupant of a two-bedroom apartment in Lagos, got a bill of N12, 000 as electricity bill for May 2018. She couldn't believe her eyes.
"I have just few electrical appliances. The curious part is that I was away for three weeks out of the four weeks of the month, so the house was locked with all the light points turned off. How then did they come about the N12, 000? I told them point blank that I was not going to pay. I think it is sheer wickedness. Even if light supply was constant, N12, 000 is still ridiculous, not to talk of when supply is epileptic."
Mrs Adetunji's experience is just one among many. Thousands of Nigerians complain of estimated billing, some have applied for prepaid meters for years without getting any so they are forced to cough out ridiculous amounts every month to pay for electricity they did not consume. People are only asking to be charged appropriately and that can only happen if they are metered.
Meanwhile, some stakeholders believe it is absolutely impossible to meter all electricity consumers in the country.
For instance, speaking at the maiden Power Sector Roundtable organised by Sahara Power Group Ltd in Lagos, the Group Managing Director of the firm, Mr. Kola Adesina, said that it is impossible to meter all electricity customers in Nigeria.
"When I hear the argument about metering, I wonder because we argue about what should come last to come first. Estimated billing is a universal phenomenon; it is not a Nigerian thing. Everyone should not assume that it is only in Nigeria that you don't have meters. It is definitely and certainly impossible for the universe as we have it today to be metered. That's the reality," Adesina said.
But Andrew Idowu Desmennu, an engineer and the Managing Director/Chief Executive Officer of Andrew D. Idowu and Co., has a different position. In a chat with Sunday Vanguard, Desmennu disagreed with Adesina's stand, saying it is possible to meter every electricity consumer in Nigeria.
He said: "This is Nigeria of the 21st century and not the Nigeria of 1999. Awareness has come. I will like to take on the MD of Sahara Group Ltd., Mr. Kola Adesina, point-by-point.
"It is as dangerous as setting a time-bomb with short fuse albeit for the obliteration of the DISCOs because it is like telling Nigerians that they can't prevent being ripped off by the distribution companies. It will just be a matter of time before the masses will use the existing laws to create avenues for alternative means of generating and distributing power to the consternation of the DISCOs.
"My questions to Adesina are these:
*Is it possible to meter every point of energy collection of the DISCOs?
*Is it possible for the generating companies, Gencos, to give estimated billings to the Nigerian Bulk Electricity Trading, NBET, Plc?
*Is it possible for the DISCOs to agree to buy a percentage of the power they distribute to us from NBET and the market operators on estimated billing?
*Can the DISCOs agree to pay for energy they are consuming on estimation?
*Can Egbin agree to pay for the gas they are using based on estimation?
*Can Sahara Group pay for the crude, petrol, gasoline and possibly kerosene on estimated billing?
*Will they agree that they will not use meters in some of their outlets so we can pay for the fuels on our assumed rates?"
Fallacy
Describing Adesina's submission as a fallacy, Desmennu challenged Ikeja Electric Plc, for instance, to give Nigerians the opportunity of metering their customers at no cost to the organisation, and see if, within two years, the 800,000 figure of their assumed customers will not be fully metered and go up to excess of over two million consumers."
'Estimated billing is a universal phenomenon, not a Nigerian thing'
Desmennu said: "What should come last here, metering? Which among the DISCOs will want to buy power from anyone without asking how they will be metered? All the embedded bidders can tell us if metering was not a major and foremost component of their bids, also tell us what has been stalling embedded power generation if not the fact that the Discos claim they can't guarantee collection for IPPs. Why have foreign investors in power generation not come to Nigeria again especially renewable IPPs if not for the DISCOs' open confession that they cannot meter and so cannot collect revenue?
"Will the DISCOs agree that, if consumers accept estimated billings, they will be allowed to do estimated payment since they are the ones who consume what is being billed and should thus have an idea of how much they should pay?
"Like I said earlier, this is the 21st century. I challenge Adesina to tell us anywhere in the sane world out there where estimated billings are being done and, if at all, in a crazy way like ours?"
Lack of trust
Adesina had argued that the problem is one of lack of trust. To this, Desmennu replied: "The DISCOs are the main reason there is no trust. In a situation where your meter reads130 units over a period of one month and a DISCO brings a bill in excess multiplication of that unit by 300% (3,000) only to come around later to effect a manipulation of that same meter to even read 7,800; times two of the earlier estimation after the power on the transformer has been disconnected from the grid, how can there be trust from the consumer? How can there also be trust when a consumer, who recharged N2, 000 on his prepaid meter, is yet to fully consume it even after three months and his neighbor in the same compound without meter is made to pay over N3, 000 every month? How can DISCO be trusted when, for a period of 30 calendar days, not once was there electricity given in a particular community and the DISCO still brought a bill of N3,000 to N6,000 to the consumer?
Adesina also argued that the meters do nothing but just calibrate usage.
In his response, Desmennu said, "Why do you have a wrist watch or a clock if not to calibrate time for you? How do you know how much to pay on your phone if not metered? So how are you supposed to know what to pay if not by this infrastructure that is just for calibration? How do you come about your own estimation of billings if not by this infrastructure that just calculates usage?"
"Government with huge budget at its beck and call could not meter 30 per cent of Nigerians in 53 years, now suddenly, five years down the line, we expect magic to happen. It is not possible", Adesina had said.
To this, Desmennu said: "Telecoms was run by government for that same long period of time and, within two years of take-over, we registered subscribers up to the tune of over 30 million from a paltry 400,000. You claimed you inherited less than 700,000 subscribers but you have not recorded more than 100,000' rise in your subscriber base.
The Sahara Power Group GMD said they invested at exchange rate of N157 to a dollar, and the tariff did not shift for two years post-economic recession with the doubling of exchange rate in an industry that is largely foreign exchange-exposed; to this Desmennu replied: "What was the tariff when you took over and what is it now? You have the opportunity to determine your tariff, so why are we crying foul here? A distribution company is charging between N37 and N46.92 yet, it is not solvent, while those who are charging far less are breaking even? Something is wrong somewhere!
On Adesina's claim that economic reality has made commodity prices to double but tariff remains same, he stated, "We do not agree here. Has Ikeja Electric improved on its customer base? I'll say yes because businesses are coming up every day and the number of houses, shops and commercial services has quadrupled since you took over in 2013, yet, your figure has not risen officially beyond 800,000 consumers, how do you prove this?"
Adesina also said it makes more sense to put the money invested in power sector elsewhere to which Desmennu replied, "Why spend so much money to organise such a forum only to tell us you should have put the money elsewhere? Meanwhile, why are the DISCOs rejecting every offer of assistance through franchising law, Independent Electricity Distribution Network 2012 (IEDN-2012) that was in place one year before the DISCOs came on board in 2013? Why are the DISCOs rejecting MAPS-2018 when you know you can meter everyone and the regulator is saying let's bring in those who can assist?"
On the Sahara Group boss' admission that the backlash DISCOs had been receiving since 2013 was expected because the sector is highly technical and they didn't expect a pepper seller to understand the science behind electricity, Desmennu said, "As a petrol seller that Sahara Group is, do you all need to understand the technologies behind the cars you drive, the telephones you use, the food you eat and how they are cultivated? The airplane and choppers you own are filled with technologies you don't understand."
On Adesina's claim that all the customers want is to press the switch and there is light and do not understand what goes behind the scenes, Desmennu said: "This is what we want to see just like what you want to see are the figures in the bank accounts but how the figures accrued you don't want to know".
On Adesina's statement, "If we are in that vantage position to make it work, can we please work together?, the engineer said, "Are you willing to walk your talk on the above statement? This is because for three years running, IE has been tactically rejecting offers along this line. I request that such a meeting be organised for the sole purpose of bringing different stakeholders together including consumers in all categories – room and parlor/duplex consumers; small shop/supermarket consumer; welder; shop/vehicle manufacturers; pepper seller/confectionaries, etc.   Let every sector be represented and the programme should have sections that will handle different categories of consumers and let them understand the dynamics of the market; then let's see if they will not proffer far-reaching solutions to the issues at hand."