• Her greatest songs, from the church to the dancefloor
By Benjamin Njoku & Juliet Ebirim, with Agency reports
US President, Donald Trump and his predecessor, Barack Obama yesterday joined the world to mourn the passing away of renowned soul singer, Aretha Franklin.
Franklin died on Thursday morning of advance pancreatic cancer of the neuroendocrine type. She was 76.
Former President, Barack Obama called Franklin "a glimpse of the divine" in a joint statement he released with his wife, Michelle. He  praised the legacy of the woman better known as the "queen of soul."
Obama said "Aretha  may have passed on to a better place, but the gift of her music remains to inspire us all. May the Queen of Soul rest in eternal peace. Through her compositions and umatched musicanship, Aretha helped define the American experience."
"America has no royalty. But we do have a chance to earn something more enduring. Born in Memphis and raised in Detroit, Aretha Franklin grew up performing gospel songs in her father's congregation. For more than six decades since, every time she sang, we were all graced with a glimpse of the divine."
" In her voice, we could feel our history, all of it and in every shade our power and our pain, our darkness and our light, our quest for redemption and our hard-won respect. She helped us feel more connected to each other, more hopeful, more human. And sometimes he helped us just forget about everything else and dance," Obama wrote.
On the other hand, Donald Trump could not resist opening his remarks on the singer's death with a little self-promotion. "I want to begin today by expressing my condolences to the family of a person I knew well. She worked for me on numerous occasions. She was terrific-Aretha Franklin-on her passing," Trump reportedly said at a White House cabinet meeting.
He continued, more warmly: "She's brought joy to millions of lives and her extraordinary legacy will thrive and inspire many generations to come. She was given a great gift from God – her voice, and she used it well. People loved Aretha. She was a special woman. So just want to pass on my warmest best wishes and sympathies to her family."
Trump did not explain further when he said he knew Franklin well and she "worked for" him. But the singer had performed at one of Trump's casinos and was photographed with him at the grand opening of New York's Trump International Hotel and Tower in 1997.
Trump's comments, however, proved, as ever, controversial, and not simply because her appearances at his properties hardly amounted to a sustained employment relationship. More pointedly, even if she had worked for him, some asked, what was the relevance of that fact on the day of her death?
"I find it disturbing and sad, and a reflection of his endless narcissism," said David Ritz, who spent years with Franklin seeking to understand the guarded performer for his 2014 biography, "Respect: The Life of Aretha Franklin." He also worked with Franklin on her 1999 autobiography, "Aretha: From These Roots." The curious announcement that the singer had worked for him set Trump's comments apart from other tributes. Barack Obama called Franklin "a glimpse of the divine." She performed at his inauguration in 2009 and was a frequent guest of his at the White House. In 2015, her performance of "Natural Woman" at the Kennedy Center Honors brought the nation's first black president to tears.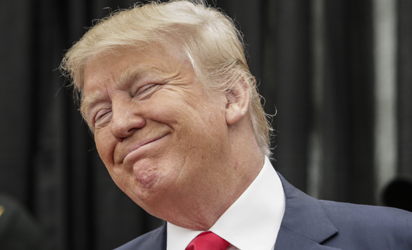 Franklin drew much more notice for her performance at Obama's first inauguration in 2009, when he was sworn into office as the first black president and she sang My Country, 'Tis of Thee on the steps of the Capitol. She also sang (You Make Me Feel Like) A Natural Woman at the Kennedy Center Honors in 2015, attended by Obama, and her performance moved him to tears.
Franklin also performed at pre-inauguration concerts for Bill Clinton in 1993 and Jimmy Carter in 1977. "Like people all around the world, Hillary and I are thinking about Aretha Franklin tonight," Clinton said in a statement, adding that the pair was "listening to her music that has been such an important part of our lives the last 50 years." Two years ago, Franklin serenaded donors to Hillary Clinton's presidential campaign in a suburb of Detroit.
Ritz asked why Trump couldn't have simply joined legions of Americans in praising the departed singer. "That's all we need," he said in an interview early Friday. "A great artist is gone. It's just sad that he has to go there, and attach her to himself."
Ritz said he saw the statement as consistent with Trump's demeaning language about women and minorities, though far less severe than some of his recent observations about black women. He pointed to the president's denigration this week of Omarosa Manigault Newman, formerly his top black aide at the White House, as "that dog."
During the 2016 campaign, Trump once sought to tout his support among black voters by pointing to a man at his rally and declaring, "Look at my African American over here."
In the case of Franklin, Trump was claiming "some type of bond" with the singer, Ritz said. "Though I'm certain there was none."
"Her great allegiance was to the Democratic Party," Ritz said. "She was a huge Obama supporter, she thought of herself as a Democrat and she was vocal, obviously, as an activist in the civil rights movement."
Subscribe for latest Videos