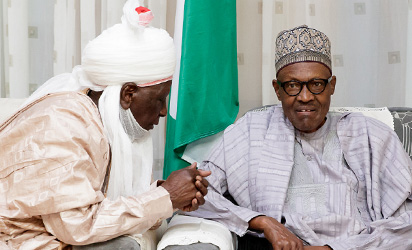 By Bashir Bello
KATSINA – Emir of Daura, Dr. Umar Faruq Umar has on Monday said his people and President Muhammadu Buhari's hometown are hungry and not getting enough from the centre despite the fact that their son, Buhari is the President of Nigeria.
This was as he urged Ministers who benefitted from appointments of President Buhari to reciprocate the gesture by coming to the aid of people of his constituents through developmental projects and farm inputs.
The Emir stated this when he received the Minister of Agriculture and Rural Development, Dr. Audu Ogbeh who was on working visit paid homage on the Emir in his Daura palace.
He said the Minister's appointed by Muhammadu Buhari are not doing enough to assist his hometown, Daura with a viable project.
According to him, "Buhari by his nature will not influence the siting of any projects in Daura. But his Ministers who benefitted from his appointment should reciprocate by bringing developmental projects to Daura, his birth place.
"It is a call to duty for the Ministers to make provision in their Ministry's budget of ensuring that Daura benefitted immensely from Buhari administration.
"If the Ministers failed to site any projects to Daura, they have betrayed the President and people of Daura.
"Like the Rice production in Kebbi State. Katsina has prospects in rice production and irrigation farming.
"Katsina has dams and irrigation sites like Sabke, Jibia, Zobe, Daberan, Mai Ruwa dams and if utilized and reciprocated has potentials of feeding the state and it's neighbours.
"I urge you to go back, look inwards and search for what, how you can assist people of Daura. Daura is faced with absence of projects for its development and its people are hungry and need federal government assistance," the Emir said.
Earlier, the Minister, Audu Ogbeh said plans are underway to establish a tomatoes farm and processing plants that with create about six thousand (6,000) jobs for farmers growing tomatoes and also stop importation of tomatoes in the country.
Also responding to the Emir's request, Ogbeh said the ministry will look into the issue of establishment of a Rice mill as well as providing improved seeds to create jobs in Daura emirate.
Subscribe for latest Videos