By Innocent Anaba & Henry Ojelu
Mr Paul Usoro, SAN, is President-elect of Nigerian Bar Association, NBA. In this interview, he spoke of his programme for the association, the controversy that trailed the election that produced him and other issues effecting the association.
Excerpt: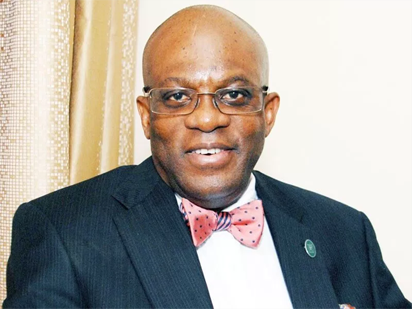 As the incoming President of NBA, what issues will you focus on in your early months in office?
I will focus on the welfare of lawyers. The issue that we have discussed before is the brutalisation of lawyers by security agencies. That is something I would want to deal with within the first one month. My goal is to deal with the issues and make sure they don't happen again.
Another thing I would focus on is one on which I made a commitment.
I would want to reorganise the NBA. I would like to see financial accountability and transparency in the things that we do.  One way that you achieve this is by ensuring that your financial statements are prepared and published, so that everybody can see what you are doing. That is one thing I am very passionate about. Starting from the first quarter of this administration, I would ensure that we have well prepared financial statements that contain everything, that would be easy to understand.
To make this possible, we'll ensure we engage the right calibre of staff in the NBA National Secretariat that can prepare these statements. That particular project has multiple ripple effects. One,  it will engender confidence in members of the association. Another thing is that in the process, you'll see efficiency at work. Thirdly, you'll start having proper institutions. This will also ensure that we have moral equity.
Apart from these, I do intend to address the issue of stamp and seal. I would like to meet with the contractors and see what the real costs of these stamps and seals are. Don't forget that we are getting into September. As we take over in September, we'll prepare in advance and see that lawyers get their stamps and seals early enough. I am determined that we should never have such a situation again.
The other thing we would work on very early is our Annual General Conference, AGC. It might look like its one year, but one of the complaints I hear very frequently is the cost of the AGC. We can only start to plan and think of how to manage that cost if we can have a look at how it has been managed over the years. What are the cost constituents? How can we make it affordable for lawyers generally?
Also, we'll start working on a process which will desegregate the content preparation for the annual general conference. In other words, let's have different sets of people work on the content of the conference. Let the sections and their committees and the different fora have some responsibility  with regard to the content of the annual general conference.
Then, we should have a different set of people look at the logistics and costs. These are some of the things we'll look at in the first few months of our tenure. Then of course, we'll ensure we play our role as the voice of the voiceless and also ensure that the promotion and protection of the rule of law is constant.
The election that produced you as president has been adjudged as the most controversial and contentious in the history of the NBA. How do you react to this?
The process was free and fair. Let me give you some perspectives on this Chams issue. Essentially, let me repeat what Chams had said. They said Paul Usoro had no shares in Chams. They also said its Chairman, Mrs. Awosika had no shares in Chams, she is an independent director.
Chams had said that Access Bank where I sit as director has no interest or shares in Chams. They also said that neither Paul nor Mrs. Awosika was involved in the process for the purposes of the election. I don't know if you have seen anything that contradicts those factual assertions, but I haven't seen any.
My own take is that as lawyers, we ought to deal with facts and not speculations. If there is anybody who has facts that contradict those four sets of facts I just stated, let them bring them out. Crenet was brought in to handle the election verification exercise. I didn't know Crenet, just like I wasn't involved in how Chams was brought in. What I would urge my colleagues to do is to understand that in making allegations that are not facts based, we are actually not only diminishing ourselves, but the entire association. It is not helpful. I will rather deal with facts. We all know what facts are, according to the Evidence Act.
Having said that, the elections have come and gone and I personally think it would not be profitable to keep dwelling on the elections. Are there lessons that we can learn from it? Most definitely there are. The process of verification was rather difficult and it went through different levels of challenges. But even we, as an association, haven't captured the data of our members to be used in future. Maybe that is a lesson that we should learn. We should try to look at some lessons we can learn and some  things we can take from what happened in that election. That would be more profitable.
What do you make of the issue of zoning in NBA considering the fact that your Eastern zone adopted a candidate and you still contested against the candidate?
First of all, I am from the East and it was on the platform of coming from the Eastern zone that I ran for the election. So, from that perspective, it is quite clear that I am a beneficiary of zoning. But what you mixed up is what the constitution says, then juxtaposing it with what some other organisation says that is not affiliated with the NBA.
There was indeed an organisation that had adopted their own candidate. The NBA didn't give them any authority to adopt any candidate. The NBA didn't say their candidate must win. All that the NBA says is that the candidate for the office should come from the East, and I come from the East. I don't see how that in any way negates that principle of zoning.
What is your message to candidates that lost the election?
My message to everyone who lost in the election is that there is room for all of us to contribute in building the NBA.
The association doesn't belong to only Paul. It belongs to all of us and we should subsume our own personal interests to build the NBA. This is my message to all the contestants in that election who didn't win.
Given the obvious
challenge in the e-voting system, would you still retain the process?
Your question is premised on facts that are not proved. Those are mere allegations. I haven't seen any facts to the effect that there were huge challenges with the e-voting process. We must move away from making or premising our comments on unproven allegations.
But the ECNBA admitted that there were challenges..
Whether the challenges were real or not, these allegations are speculative. For instance, the reason why Chams was jettisoned is far from fraud or incompetence.
There is no endeavour of humans that is perfect. You can only learn from the imperfections of the system and go back to amend or correct those things. We just don't jettison an idea or a system; otherwise, we'll jettison electricity and go back to the Stone Age. We learn how to improve on it and learn how to make it work for you. For me, we must learn from whatever inadequacies that may have been encountered, whether they were real or perceived.
There have been concerns over the operations of the sections of the NBA. What would be your strategy to revive those sections to ensure they achieve the purposes for which they were set up?
It's a very simple thing to do really. We'll start by examining what happened that led to those sections being inactive. When we identify what those challenges are, then we'll apply the right cure.
Secondly, if like you pointed out, SBL has been operating well over the years, what is the model? Can we apply the same method to the other sections? Indeed, there should be collaboration between the SBL and the other sections to ensure they form a synergy that would make all the three sections work. We'll find a way to reenergise and reinvent those sections and put the right people there to get them working  at optimal level again.
There appears to be a major disconnect between the NBA and  other bar
associations in Africa. In this era of cross border practice, what would be your strategy to ensure that Nigeria actually
provides leadership for African lawyers?
I would not pretend that I am conversant with this issue. I am not aware that there is that leadership vacuum in the African Bar.  When I get into office, I would definitely look at what there is and what the relationships are.  If we need to do anything about it, I will. In a lot of ways, Nigeria is leading on the African continent.
Even in terms of the number of lawyers, Nigeria is leading. It's also understandable that Nigeria should continue to occupy that position and to provide leadership to lawyers in Africa.
Another point I need to stress is that leadership also bestows on one certain responsibilities. That is why I keep saying that we should lead by example and be less fractious and speak less evil of ourselves.
We must project a good image of the NBA to be able to occupy that position of leadership in Africa.