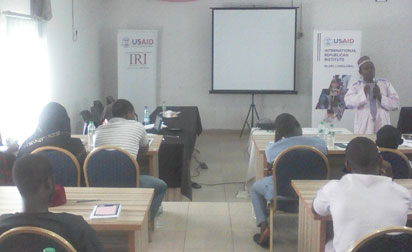 By Suzan Edeh
Bauchi- A coalition of Youth leaders of political parties in Bauchi State have observed that vote-buying and imposition of candidates by party leaders are challenges militating against the growth of democracy in Nigeria.
The Youth leaders from five political parties of the All Progressive Congress, APC, People Democratic Party, PDP and New Nigeria Peoples Party, NNPP, Green Party of Nigeria, GPN and All Nigeria Peoples Party, ANPP made the observation during a three days training organised by the International Republican Institute, IRI, a USAID funded project for political parties, held at the Staple Plaza in Bauchi.
The training was facilitated by the IRI Resident Program Officer, Husna Hassan, Dr Umar Kari, a lecturer of the department of Sociology, University of Abuja, Amina Aliyu, IRI State Coordinator and IRI State Program Associate, Suleiman Baiko.
They lamented that vote-buying and imposition of candidates has become a common practice during the conduct of elections in the country, alleging that many political parties were using it to ensure that thier candidates win at all cost.
"It is unfortunate that elections in Nigeria is no longer free, fair and credible. Many politicans are guilty of using money to induce voters and people who are not the choice of the electorates are imposed on them as a result of influence of godfatherism factor", a PDP Women leader, Bogoro local government, Hassana Akita said.
In his presentation on the Concept and Institutions of Democracy, a lecturer with the department of Sociology, University of Abuja, Dr Umar Kari, said that lack of internal party democracy and respect for party's constitution are factors causing crisis in political parties.
"In 2003, 2007 and 2011, almost all election results in this country were contested in court and this was because they were not transparent and credible. Political parties have a role to ensure that there is strict adherence to the rule of law where every member is not restricted in participating in electoral processes" he said.