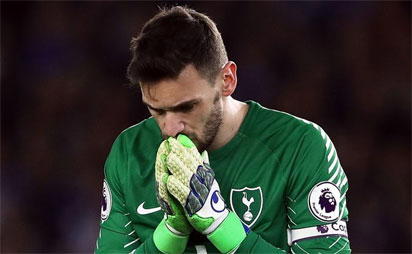 Lloris
Lloris
France's World Cup-winning captain Hugo Lloris has apologised for his "unacceptable" behaviour after the Tottenham keeper was charged with drink-driving on Friday.
Just weeks after playing a key role in France's World Cup glory, Lloris's reputation has been tarnished by his late-night antics.
Lloris was pulled over in a routine stop at 2:20 am (0120 GMT) in Gloucester Place, central London.
The 31-year-old was reported to have failed a roadside breathalyser test and has been released on bail to appear at Westminster magistrates' court next month.
"I wish to apologise wholeheartedly to my family, the club, my team-mates, the manager and all of the supporters," Lloris said in a statement.
"Drink-driving is completely unacceptable, I take full responsibility for my actions and it is not the example I wish to set."
After spending seven hours in a cell, Lloris, a married father of two, returned home on foot and refused to answer questions from reporters.
"A man has been charged following a routine patrol stop in Gloucester Place, W1," a Metropolitan Police spokesperson said.
"Hugo Lloris, 31, of East Finchley, was charged with drink driving on Friday, 24 August.
"He has been bailed to return to Westminster magistrates' court on Tuesday, 11 September."
France won their second World Cup with a 4-2 final win over Croatia, although Lloris was guilty of a bad mistake that allowed Mario Mandzukic to score in the Moscow title match.
He had kept clean sheets in France's semi-final win over Belgium and their quarter-final success against Uruguay.
Lloris signed a new £150,000 ($193,000)-per-week deal at Tottenham during the summer as he was rewarded for another fine season.
After leading France to their World Cup triumph, Lloris returned to domestic action with Tottenham.
He featured in their opening two Premier League matches as Mauricio Pochettino's side beat Newcastle and Fulham.
Lloris is due to play for Tottenham in their league match at Manchester United on Monday, but it remains to be seen if he keeps his place after the controversy.
"The club takes matters such as this extremely seriously and it will be dealt with internally," a Tottenham spokesman added.
He has been with Tottenham since joining from Lyon in 2012, making 256 appearances for the north London club.
AFP