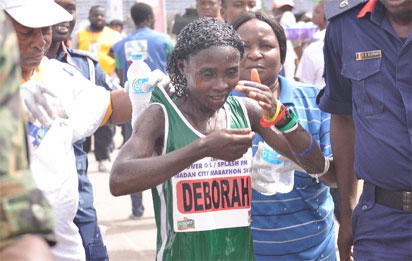 One of the foremost long-distance race runners in Nigeria, Deborah Pam has expressed great delight at the introduction of the Lagos Media Marathon Race.
Pam who finished as the first indigenous female runner at the 2018 Access Bank Lagos City Marathon and same at the Okpekpe international 10km road race said the planned Lagos media race is a welcome development that should be well supported.
"This is great news for me, I will be more than happy to be there to compete and run alongside the journalists that have been showcasing us to the world," Pam said from her base in Jos over the weekend.
Pam who has won several titles for herself across the length and breadth of Nigeria revealed that she is already training ahead of the National Sports Festival also fixed for December; hence it will be good for her to run in Lagos before heading to Abuja for the festival.
"It is very good that the Marathon fire is catching on very fast now, with journalists even coming together to stage their own race, I know they will be reporting it more." She said.
Pam noted that with more marathon races across the country, Nigeria's long-distance runners can begin to compete favourably against the Eastern African powerhouses like Kenya.
She noted that what the Kenyans have going for them is many races and support from the authorities.
With over 20,000 runners expected in this inaugural edition of the Lagos Media Marathon, Yusuf Alli, the General Manager for the Access Bank Lagos City Marathon who will also oversee the maiden Lagos media race explained that the 10km race will be in two categories; first for media practitioners and second for the public.
"Other people will run with the media men because the issue of a marathon is all about the numbers, the sponsors want to see the crowd. It is open to everybody but we are going to have two prize money for the media and others but the media money will be larger than other people who are going to get us the number." Ali explained
The first edition for the Lagos media Marathon has been fixed for December 1, 2018.