By Monsur Olowopejo
LAGOS—Nobel  laureate, Prof. Wole Soyinka, yesterday, lamented that the lives of Nigerians have been so cheapened under the administration of President Muhammadu Buhari, and called for the election of new generation of leaders to overhaul the system.
Soyinka spoke at the official launch of his Interventions VIII series, entitled: "Quis Custodiet Ipsos Custodes? (Who keeps watch over the watchmen?), Gani's Unfinished Business," at Freedom Park, Lagos.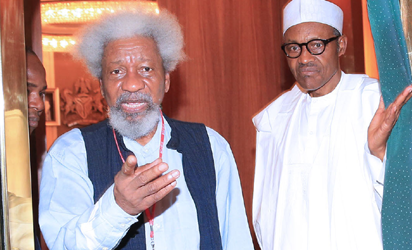 Soyinka said there were serious acts of mis-governance under the current administration, as there were lots of unforced errors being committed by Buhari.
"There are acts of mis-governance under this administration. There are unforced errors and acts that are considered being stupid; failure to secure lives; languages of self-excusing, which were condemned in the past but resurfacing all over the place," he said.
He decried that the administration glossed over intolerable degrees of bloodshed as if in a casual event or happening by accident, adding that there was "also, failure to exact authority when and as at when due which led to the killings."
''There is cheapening of lives. The value of lives in the last year or so on is on a level we haven't witnessed in the country for long time," Soyinka said.
The Nobel laureate said this was one of the reasons it had become essential that "we all embark on ground clearing for new generation of leaders and to make sure that in the process, we don't bring back what we are just getting out from. That is one of the stupid acts that we could be held responsible by the coming generation."
Soyinka stated that between now and 2019, an opportunity still existed, as there should be reforms and total overturn, saying whatever it would take to secure the nation to give the people new sense of dignity and humanity, should be done.
On Obasanjo
He also took a swipe at former President Olusegun Obasanjo, whom he described as hypocrite and a pretender who capitalised on every opportunity to make himself relevant.
Soyinka said:  "Obasanjo isn't a stupid man but reads the wind and move in. He is busy hijacking existing movements. And that is why I have warned many that have movement and that includes him, to be careful because he could hijack them.
''He frustrated June 12 and often put himself forward on any issue. He is welcome to reform and as his slogan maybe, the redemption process has started."
Soyinka was absolutely displeased with Obasanjo on how he rubbished the late Chief Bola Ige over the power sector crisis.
He said he was very involved in Bola Ige's stint as the Minister of Power, lamenting that "after Ige died, Obasanjo claimed that the deceased never knew his left from his right."
''I found that statement unforgivable. He owes him for maligning him and sabotaging his genuine and structured efforts to transform the power sector of the country.
"I was here when Ige moved his office to Lagos to solve the power problem of Nigeria. He deliberately sabotaged the efforts of the late minister. Before Ige took office, he summoned a group of experts and mapped out strategy to transform the power sector.
''But he was sabotaged from the inside because he begged me to persuade Obasanjo to remove Sulaiman Bello from office.
"This was the man he believed was used to sabotage his efforts and the consequence we are still suffering today. Obasanjo protected the saboteurs of the power sector and that is why I challenged him to engage me publicly."
Soyinka also said he could not remember the good things Obasanjo did during his tenures as President.
"I don't remember the good he has done. It will be very difficult to find one. I can't remember one at this moment. There are many groups emerging with very good manifesto and it is a long time between now and next year. The field is widely open.''
On the defection of the Benue State governor, Samuel Ortom, from the All Progressives Congress, APC, Soyinka said the governor had the right to choose which party he wanted to belong and that no one should crucify him for that.
He said he wrote a letter to Ortom where he made his position on his defection clear, even as he read out the letter, saying:   "My position is clear on the challenges facing your state. As the leader of a state that experienced attacks, you have a right to seek the promise of an alternative means of security for your people because they remain your primary responsibility.
"We are all free over the actual choice of an alternative destination but no one can deny the inalienable entitlement to such action, especially when they are provoked by disillusionment and sense of impotence under existing association."