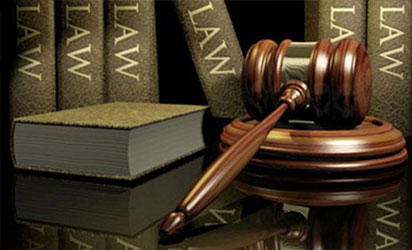 Judicial symbol for justice
By Babajide Komolafe
Bureaux De Change (BDCs) operators across the country are set to petition the Central Bank of Nigeria (CBN) against    ongoing suspension of their bank accounts over demand for tax remittances on their turnover volumes.
Last week most of the banks placed a  'No Debit'  order on BDCs' accounts in response to a directive by the Federal Inland Revenue Service (FIRS) demanding that BDCs pay taxes on funds used to bid for their dollar allocations sent to the CBN on weekly basis through the commercial banks.
One of the banks, in a letter to its BDC customers said: "The bank has, pursuant to section 49 of the Companies Income Tax Act LFN 2004 and Section 28, 29 and 31 of the Federal Inland Revenue Service (Establishment) Act No. 13 of 2007, been appointed by the Executive Chairman of the FIRS as collection Agent over your accounts.
"Please be informed that consequent on this directive, we are compelled by law to place 'Post No Debit' on your account pending the receipt of further instructions from the Executive Chairman of FIRS. This is for your information and necessary action as you are best advised to contact the FIRS officials".
However, Acting President, Association of Bureaux De Change Operators of Nigeria (ABCON), Alhaji Aminu Gwadabe, condemned the action of the banks and the FIRS directive, adding that the association will send a petition to the apex    bank against  the banks.
"The BDCs are high turnover sector and their funding cash for dollar collections cannot be subjected to taxes. An average BDC does over N30 million weekly turnover and paying taxes on such funds will affect their cash flow and ability to meet their statutory role of foreign exchange supply to the retail-end of the market," he said.
He said many of the affected BDC operators are already facing major funding challenges that need to be addressed immediately by concerned stakeholders.
"In fact, we will be writing to the CBN to complain about the illegal policy of the 'Post No Debit'. Presently, most of our members funding with the deposit money banks for their bidding obligations are being trapped in the banks. This scenario if not checked, will affect our members funding capacity, derail the sustainability of their businesses with the resultant liquidity spikes," he said.
Gwadabe averred that the new trend in collecting taxes from BDCs is unacceptable and must be stopped. "The banks did not ask the BDCs to bring evidence of tax payment before they act. Value Added Tax- VAT- Exempt for BDCs is applicable in other climes and should also be practiced in Nigeria. The non-implementation of tax exempt in Nigeria is affecting the capacity of BDCs to effectively meet the foreign exchange demands at the retail-end of the market," he said.