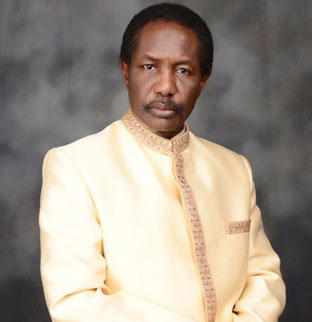 Aliyu Omar
…says Late Governor Danbaba influenced me, Aliyu Omar speaks on Governorship ambition
Aliyu Omar, MON is a former Nigerian Liaison officer at the United Nations and governorship aspirant under the platform of the All Progressives Congress (APC), In this interview with selected newsmen, Omar speaks on how the late Governor Danbaba Suntai influenced his passion for good governance.
Your are practically a diplomat, with little knowledge of Taraba politics, why you think you should be the Governor of the State?
First, some set people of people came to me and said everything has now been decided that a new brand of people should come into the governance of the state, that it will be out of the box thinking to get somebody who has not come in before to come and be Governor. I was very reluctant, but ultimately when I thought of the people, my friends told me it was not for me but for my people. In the past, late Governor Danbaba had tried severally to get me into politics, but I politely declined. The same way some top politicians approached me to run for a political office, but I also declined that. All the people who know me, also know my aversion to politics. I am in the race this time because of where Taraba State and Tarabians found themselves presently. I know it is normal for every politician to say he was called to serve, but you should wonder why I never joined politics during Governor Danbaba's time, when it would have been 'easy picking' for me , and decided to run at this time. Again, you would have noticed that it took quite some time before I confirmed my candidature, even though some people went to the the extent of putting up my banners.
I am in the race because of the widening divide between our two great religions. I remember one time when I met one of the top four guys in the present government of Taraba State, I told him, look you are the leaders of the state at this point in time and look at the divisions we are having and they are going wider and wider, why don't you do something about it. He looked me in the face and said that the divisions were too far gone, and it would be impossible to get the state back to where it was. This could be the defeatist view of the Government right there! A leader saying he had given up on trying to unite his people! I was very disappointed and started ping that one of the next candidates for Governor would focus on the unity of Tarabians. So when the people approached me and said they had decided it had to be a technocrat who had never run for office before, I took some time to think about it , and was finally persuaded. They said there should be a new face that will appeal to both Muslims and Christians; young and old. So, they decided I was one of those who fitted the bill.
I at first told them, why don't you get and appoint a body made up of concerned Tarabians from all sides of the divide, and get about three of us from APC, debate and finally come up with one name. If that body chooses me, I would go for it, but would also support anyone that body chooses. That would mean APC will have a consensus right from the beginning. Unfortunately, it did not work out that way. I came in with that and thought it was going to be like but by the time I discovered it was impossible to do that, then it was too late to back out because I had already come in.
What encouraged me first was that when I came for my declaration there were so many people, it was a large gathering, despite inviting few people. I got to learn of some people sponsoring up to ten buses to convey their people to the airport to welcome me. There was no way I could back out of that.
When you say why me, I think number one is that I went to a federal government college where we were taught to judge a man by his character and not by his religion or tribe or region, so, I have a lot of Christian friends who are close to me, I mean real close. You could also see the kind of bond that was between late Governor Danbaba and I. It might interest you to know that Governor Danbaba also attended a federal government college. We therefore grew up that way. Another reason is that like I mentioned in my declaration speech, many Christian children that came from all over former Muri Division to attend schools in Jalingo Town because they wanted better education, stayed not in Christian homes, but with Muslim families, and many of Taraba's big men and women are made up of that crop of Muslim-raised Christians. They were never forced to convert. This kind of unity is something that existed before, and can be brought back again, with the will and determination. Our leaders now are making the people to concentrate on the things that divide us, which are religion, tribe and region, instead of the many more things that unite us like the yearning for fair and just governance, the need for peace and unity, potable water, good roads, good hospitals, and so many other things. This should stop.
Number two is my very deep passion for Taraba state and Tarabians. When Governor Danbaba was in power, I was always in touch on developments in my state. I loved the way he governed by bringing peace and unity to the Taraba people, and I thought being his friend, and seeing how he did it, I could make an impact and unite the people of Taraba, and make the state how it should be. Look at all the resources we have in Taraba. If you take out any one of them, it is enough to sustain the state. Take out timber, our several solid minerals, tomatoes, farm produce, anything you want but we are not concentrating on all those things, instead we are just relying solely on federal grant which is not very good. Tomorrow if the oil dries up, where are we going to.
I believe it is high time somebody did something about all these things, bring the people together. Once you bring the people together and they are all one, believe me there won't be anything like kidnapping, killing of one another, because when a bad person enters your community, you will show him that he is not wanted. I know at this point it is going to be a very difficult task because of what our leaders have fed the people but I believe we can do it. Once people have someone that they can trust and who is just. Injustice by leaders is what has brought wars and discord all over the world. Once the leaders are just and fair to everyone, peace will reign, and development will follow closely behind. This is what Danbaba did. He was just and treated everyone the same, he kept peace and brought unity. Let there just be one leader to show this example of fairness, treating everybody the same, that is all we need. It will also make the people have one voice, and be able to question their leaders to account for their stewardship. That way, nobody can steal your money and you keep quiet because he is from your religion or tribe. That will be the beginning of development, After that we could come together and exploit all these natural resources that Taraba has.
You are mostly seen in some quarters as a core loyalist of the Late Danbaba Suntai, how will this affect your chances looking at the different political ideology in the state?
Yes, I am a Danbaba loyalist, but I think everybody in the end is an individual. Of course, Danbaba has influenced me greatly, and this happens when you stay with somebody, whoever you stay with will rub off some of his traits on you. You could just choose the best of him, observe his shortfalls, and learn how to avoid them. Danbaba is indisputably the best governor Taraba State has had so far, so yes I am his loyalist to the core, but I will try and improve on his achievements. The only thing is that when you say someone is your friend, then it means that you like a lot of what he does.
Majorly now, what is on the lips of everybody in Taraba State is peace, how do you achieve this if elected?
Like I said before, if you rule people justly and fairly believe me peace will follow immediately. Wherever you see crisis by the people, there is some kind of injustice. Some people feel short changed that is why there is crisis. There is no way you will please everybody but when you treat the bulk and everybody right, then in the end there will be peace. So, I think that is the first step but definitely that is not all. You must also go ahead to mobilize the security agencies and bring in the traditional rulers, strengthen the Christian-Muslim bodies and get them to be in constant dialogue, and encourage inter-religious activities among others. As you know again, I was born in the Northern Zone of Taraba, served as the Zonal Lands Officer in both the Southern and Central Zones for at least four years in each zone. I also served as the Director Land Services for the State until I was seconded to the National Boundary Commission, where I continued to learn the mastery of negotiation and reconciliation. You know land is the cause of many wars in the world, and people are willing to kill and die for it, and if I was able to manage staying in all these places peacefully with everyone, then I can assure you that negotiating for and keeping peace is what I have been doing more than half of my life.
Let us come to the level of governance in the state, are you pleased with what you're seeing and what are you plans for the state?
Well that is why I am coming in, I think the Governor is doing something but he's not doing enough, I mean his regime because I don't want to talk about just an individual. The government is not doing enough, they could do more, a lot more and that is why we are here. We have come more to fight the system than an individual.
The first thing like I said is peace. Then when you have peace you come to health and education. My plan on health is to cater for the rural areas where there are no health facilities. We could start with mobile clinics, which apart from providing medicines to people who are ill, could just go to markets and take peoples' vitals like blood pressure which is a silent killer, and the like. With that you are pushing for a healthy population in the state. People living with High Blood Pressure don't even know they have it most of the time, they keep moving thinking they are well , until they fall or have a stroke. Same thing with mortality with pregnant women when they do not have hospital close to them, they can not give birth in an healthy environment and in the end they die. Having mobile clinics even if you cannot have fully equipped hospitals. In those days we do have dispensaries all over the place and they use to be stocked with medicines. Some of the medicines you give free, while some the patient pay little depending on the area you are operating.
Then, you go to education which is at a dismal state at this time. We shall focus on quality education. We still have a lot of illiterate youths who make up about sixty percent of the population. Illiteracy is why we had the Boko haram terrorists. Since the bulk of Tarabians is made up of the youth, we shall concentrate on their education because they are the face of future Tarabians.
We shall also concentrate on the provision of portable water for the people wherever they are in Taraba State. There are lots of places in Taraba where the women and children have to walk considerable distances to look for water. That brings a lot of diseases to them because the water they get is the same water the animals drink from. We shall have lots of boreholes for the people, especially those in the rural areas.
In the other areas, we shall delve on the development of solid minerals for the good of Tarabians not just some few individuals, and look at how we can harness the natural resources which are abundant in the state for Tarabians. As I said earlier in my declaration speech, I am not going to promise to make Taraba State into a Utopia with a wave of a wand, but I promise to be just, fair and run an honest government, and give my all to make Taraba State an enviable state for Tarabians to live in. This is what President Buhari and Vice President Osinbajo are doing at the Federal level, and we intend to improve upon it.
What are your chances of winning the primary election looking at the division in your party?
On the division in the party, I don't want to say too much because right now, but like I told you we have two groups in the Taraba state APC. I belong to the integrity group and whatever I say it is going to be in general terms because I am not the spokesman for the group. Both groups are doing their best to come together, and with the mediation that has been started by the new Chairman who is an astute administrator, we shall soon settle our differences.
The division in the party will soon be over and the party will come together. There is no place you don't have crisis, even in your own house, people fight and at the end they come together. I believe APC will come together, give us some few weeks, before the primaries we will be okay. I am very sure of that and in the end we will be able to come up with one person that we will all support. With the way Tarabians are tired of the happenings in the state presently, I am sure the next government in Taraba state will be APC.
For my chances at the primary, first I would like to point out here that I am in the race for the people and fighting the system. I have told you before that I never liked politics. Apart from being asked to join politics by prominent Tarabians before. My name featured on the nomination list for ministers after the submission by my governor only because my friend Kashim Tumsah learnt that I had asked for my name to be removed from the list of nominees at the villa. He then asked the person in charge to let it remain, and later informed me that it was for the people. When T. Y. Danjuma insisted that it must be from Southern zone that would be minister, I begged Governor Danbaba to let it go because I knew he respected T. Y. I am therefore not desperate I believe in politics without bitterness. I do whatever I can and leave the rest to God, the people and the party. At this point in time, what we need is to bring the people together. I have reached out to many aspirants for the Governorship race to let us come and bring the best, irrespective of who he is, someone with a vision and mission to take the state to the greater heights that we all will be proud of.
As the Zonal Officer for Lands and Surveys in two Zones, and being born and bred in the third, I went to almost everywhere within the Zones and met a lot of Tarabians during that time, who knew me as a friendly peace-loving person. These are the people now rallying around me, and telling others about me. These are some of the qualities that make me stand out and have an edge over some of the contestants. You also saw the unprecedented number of people who came to welcome me, and more and more are coming, even from the other camps because they love what we stand for. So if the number of people count in this election, then I am already a winner.