By Peter Egwuatu
The Nigerian Stock Exchange, NSE  All Share Index (NSE ASI) depreciated further on  Wednesday  by 0.62 percent  to close at 35,069.34 points, compared with the depreciation of 0.35 percent  recorded yesterday.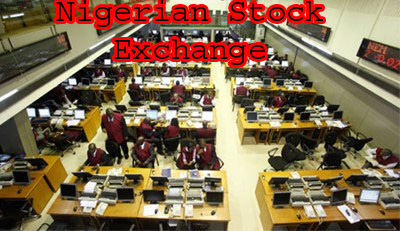 The depreciation recorded in the share prices of some highly capitalised companies such as UBA, Nestle Nigeria, Zenith Bank, Cadbury Nigeria, and GT Bank were mainly responsible for the loss recorded in the Index
Similarly, the market capitalization depreciated by 0.62 percent to close at N12.80trillion compared with the depreciation of 0.35 percent recorded yesterday (Tuesday).
The four most actively traded stocks were United Bank for Africa, UBA which maintained its leadership as the most traded, exchanging 28.27 million shares worth N255.04 million.
Zenith International Bank Plc followed recording 22.39 million shares valued at N518.40 million, while FCMB Group sold 21.01 million shares worth N38.66 million.  Guaranty Trust Bank traded 20.65 million shares valued at N785.45 million, and Transcorp sold 14.72 million shares worth N16.31 million.
Nestle dominated the losers' table with a loss of N60.00 per share to close at N1,500 per share.
Berger Paints trailed behind with a loss of 70kobo to close at N6.50 per share while Zenith International Bank depreciated by 50kobo to close at N23.00 per share.
Oando decreased by 45 kobo to close at N4.55 per share , while Air Services also went down by 45 kobo to close at N4.50 per share.
Conversely, Total recorded the highest gain, leading the gainers' table by N500 per share to close at N190 per share.
FBN Holdings followed with a gain of 30 kobo to close at N9.85 per share, while Forte Oil appreciated by 15kobo to close at N23.15 per share.
May and Baker gained 7kobo to close at N2.35, while Linkage Assurance increased by 6kobo to close at 68kobo per share.
Meanwhile, the volume of shares traded closed higher by 27.37 per cent with an exchange of 209.54 million shares valued at N2.90 billion in 4,044 deals. This was in contrast with a turnover of 164.51 million shares worth N1.61 billion transacted in 3,448 deals on Tuesday.