By Chioma Obinna
The devastating effects of malnutrition in the over 2.5 million children said to be suffering from Severe Acute Malnutrition, SAM, according to the 2016 National Nutritional Survey leaves much to be desired. This is because failure to arrest the trend  will jeopardize the future for the children.
However, in a bid to correct the situation,  global searchlight is now on substandard and unfortified food products and other life endangering products.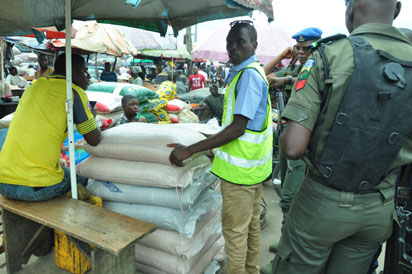 The campaign against such products has gained momentum and Nigeria has keyed into the campaign by focusing  on unfortified foods such as flour, pasta, vegetable oil and sugar.
Experts have consistently warned of  consequences from  consuming such products.
Sadly, these food items are readily found on the tables of most Nigerian homes and families. Several regulations have been made regarding these products. For instance, in Nigeria it was approved that these products must be fortified with Vitamin A to qualify them for public consumption.
Unfortunately, many manufacturing companies have failed to comply.
A Federal government key regulatory agency, the Standards Organisation of Nigeria, SON, has begun a campaign against unfortified food products across the country as part of efforts to ensure that Nigerian children have better nutrients and keep malnutrition at bay.
The Agency has embarked on  aggressive nationwide evacuation of unfortified food products across the country.
In the views of the Director General, SON, Osita Aboloma, the exercise which are being conducted simultaneously in the 36 States of the Federation including Abuja, is in line with the relevant international organisations' food fortification programme. SON has been collaborating with global bodies and partners to ensure that Nigerian children and women get access to basic nutrients and vitamins for health and development.
At an enforcement exercise in Alabaraago and its environs in Lagos, recently, Aboloma,  who was represented by the Director, Compliance, SON, Engr. Bede Obayi noted: "The children and women suffer malnutrition when these food items are not certified.
"Lack of fortification of food also leads to stunted growth and this is why these fortified foods have been supported by the international agencies to ensure that Nigerian children and women grow like other children and women in other parts of the world".
Stating that the food varieties have been carefully selected because they are food items consumed by every Nigerian, regretted that these products are smuggled into the Nigerian markets and that is why their inspectorate and compliance directorate were all out to ensure that wherever these products are being smuggled into the country, there are massive evacuation exercise.
"We are targeting all the entry points. We have our officers in the markets to ensure that Nigerians are protected from these unfortified foods."
He disclosed that SON is currently working with NAFDAC, CPC and international partners to ensure that the fortification programme of the present administration becomes a success.
He however advised Nigerians to always look out for the quality symbols before purchasing these food items for consumption, saying that the fight against sub-standard goods in the country remains a collective one.
Also, SON Director of Operations, Mr. Felix Nyado, said stamping out unfortified and uncertified food products requires the collaborative efforts of all stakeholders- consumers, buyers, sellers, importers, distributors, relevant government agencies and so on.
In the views of a public health expert, Dr. Patrick Chukwuemeka Korie, Vitamin A deficiency remains the chief cause of infant abnormality, blindness as well as maternal mortality in Nigeria.
Korie maintained that children and infants need Vitamin A and other essential nutrients for healthy living.
He said the poor nutritional profile in several homes accounts for malnourishment and retarded growth of young ones whether in the rural, semi-urban and urban areas.
On her part, an ophthalmologist, Dr. Ugoeze Amarachi of the sprawling eye clinic, Lagos, said blindness and poor vision are common diseases nowadays even among children 'due to partly what they eat.
Amarachi said Vitamin A is very important especially for the young.
Speaking, a consumer protection activist, Mrs. Bolanle Akawo called on buyers and consumers to always read the labels of food products particularly sugar and flour-based products, before purchase.