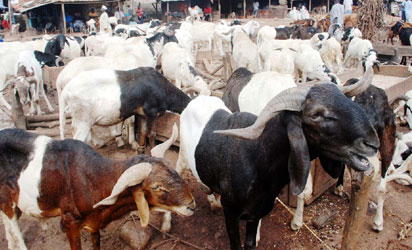 Ram market in Epe
The Spokesman of Hadejia Animals Market, Abba Tagurza, on Sunday attributed the high price of rams in the market to scarcity of the sacrificial animal.
Tagurza told newsmen in Hadejia that the high demand for rams in the market this season had increased tremendously.
He explained that besides the buyers of rams for sacrifice during Eid el Kabir, victims of the recent rainstorm that claimed the lives of several animals in the area were patronizing the market in their numbers.
" What we witness now is competition between those who want to buy for fattening, having lost their animals to the recent disaster, and those trying to buy for sacrifice.
" Usually, we source for rams from locals as well as from our associates in Niger republic. We are now largely left with the foreign rams which are in low quantity.
" This situation leads to scarcity of animals in the market and, of course, you know that whenever there is scarcity, prices increase," the spokesman said.
Tagurza said a big ram sold at less than N80, 000 in 2017 was now selling between N95, 000 and N100, 000.
He said that medium and small rams that went for N27, 000 and N12, 000 in 2017, now costs N40, 000 and N16, 000 respectively.
Similarly, the spokesman said the prices of cows had also increased as a big bull that was sold at N250, 000 last year is now selling at N300, 000.
He said a medium bull now costs N150, 000 as against N130, 000 it was sold last year, while a small bull that costs between N80, 000 and N90, 000 was now selling at N100, 000.
When approached by newsmen, a buyer, Yakubu Suleiman, said he planned to buy a big ram, but could only pay for a medium one at N40, 000.
Zakari Gidado, also a buyer, said he managed to buy a small ram at N16, 000 because he could not afford a medium one.
NAN