… Charge supporters not to be deterred by gale of defections
BY IKE UCHECHUKWU (CALABAR)
Hon. Gideon Sammani, Senior Special Assistant to President Mohammadu Buhari on Political Matters has described those defecting from the ruling All progressives Congress (APC) to other political party's as politicians with blind ambitions stressing that their exit was a triumph for the party.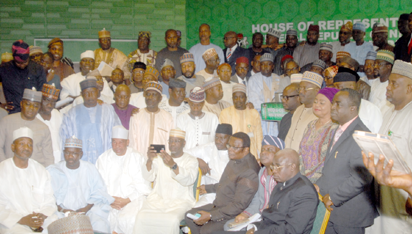 Sammani made the assertion during the inauguration of the State Executive Officers of the National Youth Support Movement for Buhari/Osibanjo 2019 in conjunction with Progressive Women's Front International on Thursday in Calabar.
He said:"The defectors are those with blind ambition and are desperate to cling power even when they don't have the requisite capacity to match President Buhari neither can they to rule the country and turnaround its ailing economy which was brought to its knees by past administrators who led the country.
"These set of politicians had in the past carried bags of money to voters so that they can be voted into power, unfortunately Nigerian voters knew that they were not the right caliber of politicians who could manage the economy of the nation.
"It is a disgrace to the nation, their exit will be a triumph and success from the APC ,don't allow the ongoing defection to discourage you and don't feel disappointed at all, we are not afraid because they are a not threat at all.
"Like water, it will always find its level, these people are not in the same level with Mr. President, and they lost that election to Mr. President who is well trusted by many Nigerians. It is a disgrace to the nation," he said.
Another presidential aide who also doubled as Chairman for the occasion and Guest Speaker at the event,Alhaji Muhktar Abba told party supporters not to be deterred by the gale of defection that hit the party in the last one week adding that it is a time to see those who were the true members of the APC.
"Don't allow the gale of defection to discourage or weaken you", with APC tomorrow is assured. After darkness comes light" and urged the newly inaugurated executive of the women group not to relent every effort in the restoration of Cross River state to its rightful position given the fact that the state was the first capital city of Nigeria.
He said that those accusing Buhari of not doing enough in the transformation of the economy were the ones who were not in touch with modern trend or not conversant with current economic trend in Nigeria adding that the social intervention programme like the N-Power graduate programme and home grown feeding programme initiated by President Mohammadu Buhari was enough to attest to the fact that the president meant well for the country.