By Chioma Obinna
LAGOS—THE Nigeria Medical Association, NMA, in Lagos State has called for the immediate implementation of the country's Prescription Rights policy with a view to stamping out drug abuse as well as reducing quackery in the healthcare system.
Speaking at a press conference, the newly elected Chairman of the Association in Lagos, Dr. Saliu Oseni stressed the need for a legislation that would ensure that Prescription Rights was strictly adhered to in dispensing drugs.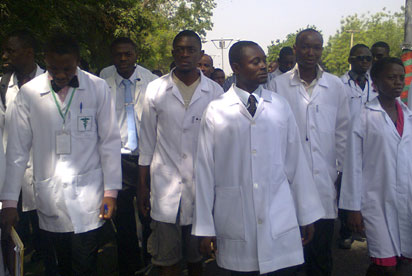 Oseni said: "Most of the time, the problem we always have is that the patient is already battered from using different types of drugs that are not meant for the disease he or she has before presenting in the hospital.
"Implementing Prescription Rights will limit over-the-counter drug availability so that drug abuse and the misuse of drugs will also be limited.   He who will prescribe is he that can make the diagnosis. The only sets of people that have the right to make a diagnosis and plan treatment for patients are medical doctors and veterinary doctors."
Oseni regretted that in Nigeria, people go to the laboratory, run tests that are not necessary and they prescribed drugs for them at the labs, adding that, 'when those treatments fail, they now bring the test to say, 'doctor this is the test I have done'."
"In more than 90 percent of the cases, the tests are not even related to what is wrong with the patient; it is about money-making."
Members elected to steer the association at the biennial election are; Dr. Tunji Adenekan, 1st Vice-chairman; Dr. Bright Igbinoba, 2nd Vice-chairman; Dr. Ramon Moronkola, Secretary; Dr. Bashiru Oloyede, Deputy Secretary; and Dr. Moruf Abdulsalam, Publicity Secretary.
Others are Dr. Ann Okonma, Treasurer; Dr. Modupe Abiola, Financial Secretary, Dr. Bemjamin Olowojebutu, Social Secretary; and Dr. Japhet Olugbogi, Internal Auditor.