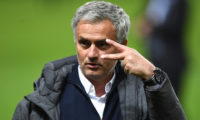 Premier League: The spotlight is on Manchester United manager Jose Mourinho to deliver a positive response to a week of negative publicity when faced on Monday with an opposite number who has adopted a very different attitude to similar off-field frustrations.
While Mourinho appears at odds with the club's executive vice-chairman Ed Woodward and key players like Paul Pogba, Mauricio Pochettino has kept Tottenham on track to travel north with a 100 percent record in the Premier League.
The Argentine is likely to have little sympathy for Mourinho's complaints about not being backed enough by Woodward in the transfer market after spending over £70 million ($90 million) in the off season on Brazilian international Fred and teenage full-back Diogo Dalot.
Tottenham became the first Premier League side since the introduction of the summer transfer window to fail to sign a single player despite Pochettino delivering a third season of Champions League football on a significantly smaller budget than his competitors.
Pochettino has also had to cope with delays to the club's new 62,000 capacity stadium that will see Spurs play at least their first four games of the season at Wembley.
Yet, unlike Mourinho's consistent outbursts against his superiors and expensively assembled squad, Pochettino's pleas for a united front have so far been rewarded in victories over Newcastle and Fulham.
How Woodward may now regret not testing Tottenham's resolve by trying to poach him instead of hiring the combustible former Chelsea boss two years ago.
– Pochettino staying put –
Speculation a move to Manchester was in the pipeline for Pochettino before Mourinho's arrival was heightened when legendary former United boss Alex Ferguson met with the Spurs manager for lunch in March 2016.
Pochettino described the meeting as a "dream come true", but now seems to have tied himself to the project of converting the abundant talent in Spurs' young squad into trophies at the new White Hart Lane after penning a five-year contract extension in May.
For all the progress made by Spurs in the past four years under Pochettino, success at Old Trafford has alluded them.
Tottenham have lost all four of their last visits there without even scoring a goal.
"That's not perception. It's reality. We lost four games, we didn't score a goal, we didn't win a point," said Pochettino.
"There are many negative things but you need to believe and I believe more than ever that we can win. We're winners."
That positivity contrasts sharply with the dark clouds lingering over the red half of Manchester.
Disastrous defending in defeat at Brighton last weekend illustrated why Mourinho demanded more money in the transfer market to improve his central defensive options.
Yet, it was two centre-backs bought during his tenure, Eric Bailly and Victor Lindelof, who were at fault.
A sullen Mourinho tried to duck a press inquisition by turning up 30 minutes early and giving monosyllabic answers in a four-minute long pre-match press conference on Friday.
However, there will be no hiding place if he fails to prevent United falling six points behind bitter rivals Liverpool and Tottenham just three games into what is characteristically a troublesome third season in charge for Mourinho.