By Dirisu Yakubu
ABUJA-The Peoples Democratic Party (PDP) has said President Muhammadu Buhari's statement of prioritizing national interest above the rule of law is strange to the nation's extant laws.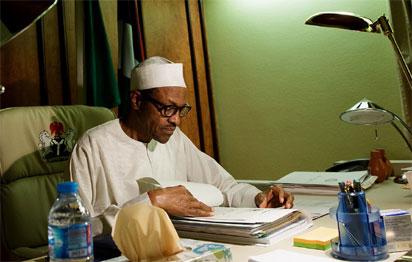 The party noted that the remark is a trademark of despotic rulers and as such cannot find expression or accommodation in a nation governed democratic norms and principles.
Reacting in a statement signed by its spokesman, Kola Ologbondiyan, the PDP vowed to deploy every legitimate instrument to protect the nation's democracy, stressing that every semblance of military dictatorship would be weeded out, root and branch.
"It is instructive to note that contrary to claims by Mr. President, there is no pronouncement by the Supreme Court that subjugates constitutional rule of law and rights of citizens to the whims, caprices and dictatorial impulses of any President.
"The PDP expresses readiness to rally Nigerians to reject every attempt by President Buhari and the All Progressives Congress (APC) to introduce the long forgotten trappings of military dictatorship into our democratic rule, which Nigerians laboured for many years to attain, the statement read in part.
The party further expressed readiness to make President Buhari account for what it called criminal abuse of human rights allegedly perpetrated under his stewardship in the past three years.
The statement continued: "Our national interest is thoroughly embedded, protected, expressed and enforced only under the rule of law as provided by our constitution and there is no how Nigerians can allow an individual to superimpose or override the constitution with his personal whims and impulses; a pattern that is characteristic of known dictators all over the world, as expressed in the obnoxious Executive Order 6, designed to justify a complete clamp down of political opponents ahead of 2019 general elections.
"President Buhari should therefore be made to answer for the litany of human rights violations in Nigeria, including documented disobedience to court orders, destruction of property, restriction of free speech, press, official corruption and lack of accountability as detailed in report by various international bodies, including Transparency International (TI), Amnesty International (AI) and US Department of States.
"This is in addition to the quest to forcefully remove the leadership of the National Assembly, the blockade of the National Assembly and siege of the official residences of the Senate President and Deputy Senate President by Presidency controlled-security forces."