By Clifford Ndujihe
A PRESIDENTIAL aspirant, Mr. Placid Maduabuchi Emmanuel, has fingered the ruling All Progressives Congress, APC and main opposition Peoples Democratic Party, PDP, as the problem of the country.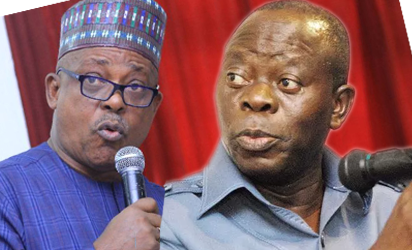 Urging Nigerians not to vote any of the two parties in the 2019 elections, he described the PDP as the killer squad that hacked the nation down, and the APC as the unprepared, mindless and tactless mortician, who performed the burial rites.
The presidential aspirant, who is yet to pick a platform, commended the Independent National Electoral Commission, INEC, for registering more political parties and extending the voters' registration exercise till the end of August.
Decrying the state of affairs in the nation, for which he blamed the PDP and APC, he said that he has been "divinely mandated to come on a rescue mission, especially to check the massive blood-letting going on currently in many parts of the country."
Claiming that President Muhammadu Buhari had publicly declared he was incapacitated to deal with the blood-letting problem by asking citizens to resort to prayers, he wondered why the service chiefs are still in office and what President Buhari understood to be the first duty of government, which is security of lives and property of its citizens.
"It is a sad commentary that no one is free any more to travel at will in more than half the states of the nation, yet such a leader is still seeking re-election. To come and do what? He has reneged on everything in his inauguration speech. We cannot allow things to continue the way it is now," Emmanuel declared.
Lamenting that at the beginning the president ran the nation for more than six months without a cabinet, he said it was certain that the economy would develop operational epilepsy. "So why blame the PDP for the economic recession? Because till date no one has told the nation how Buhari managed the nation's affairs all those months. Again, how do you expect a President who met sitting governors owing their workers months of unpaid salaries, and looted their state treasuries, instead of probing them, chose to give them more money to loot in the name of bailout? In better climes, no one gives bailout to politicians. It's usually given to industrialists and entrepreneurs, who create jobs, products and utility services. These are major parts of why the nation went into recession," he added.