By Victor Ahiuma-Young
MARITIME Workers Union of Nigeria, MWUN, has pleaded with Federal Government to prioritise Tin-Can/Berger axis in the reconstruction of Oshodi-Apapa Expressway because of its importance and level of deterioration.
The union however commended the government for approving the reconstruction of the road, saying users of the road especially business owners, workers and residents of Apapa had suffered untold hardship and lost unquantifiable money and time to the failed Oshodi-Apapa expressway.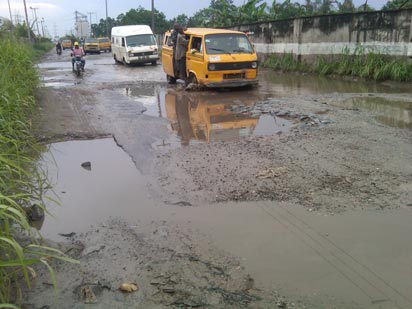 In a statement by the President General and Secretary General of the union, Adeyanju Adewale and Felix Akingboye, announcing the 21 day ultimatum issued to government on July 5, 2018, the union informed that it was pleased that government had taken action on the road before the expiration of its ultimatum.
The statement reads in parts:"before the expiration of the fresh ultimatum, the Federal Government through the Minister Works, Power and Housing, Mr. Babatunde Fashola (SAN), announced that the government has approved the total reconstruction of the Oshodi-Apapa Expressway down to old toll gate at the cost of N72.9billion to the Dangote Group for a two year duration.
"As a Union with responsible and patriotic leaders, besides the welfare and wellbeing of our members, the economic growth of our great country is of utmost importance to us.
"The aim of the 21 days ultimatum is to draw the attention of the Federal Government to the deplorable state of the road and ensure that the government make the road motorable for users.
"Now that the government has shown  its readiness to work on the road with the approval of the reconstruction of the road, we have decided to suspend the 21 days ultimatum to allow government focus on the reconstruction of the road."
"We commend President Muhammadu Buhari and Vice President Yemi Osinbajo (SAN) who has visited Apapa twice recently to assess the situation as well as gave order that the trucks that have taken over the road, caused unprecedented gridlock, be cleared to allow other road users access. We equally commend the  Minister of Transportation, Rotimi Ameachi, and Managing  Director of Nigeria Ports Authority (NPA), Hadiza Bala Usman for all their efforts in ensuring that the Oshodi-Apapa Expressway becomes motorable. Similarly, we commend the President of Dangote Group, Alhaji Aliko Dangote for the good work Dangote Group is doing at Flour Mill end of the road and speed the company is using to reconstruct the road.
Never the less, we call on the government to direct the Dangote group to immediately move to site and begin the reconstruction of Oshodi- Apapa expressway without further delay. We also want priority attention to be given to the Tin-Can axis of the road down to Berger because of its importance and level of deterioration. We equally call on government to fix other alternative roads and devise effective way of controlling and easing traffic during the reconstruction of the road. Most importantly, the government and Dangote Group should ensure that the time frame for the reconstruction of the road is strictly adhered."