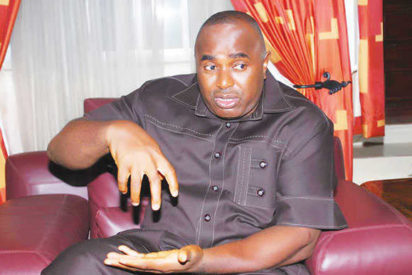 By Chinedu Adonu
ENUGU – NKPUNANO community in Nsukka Local Government Area of Enugu state will on Sunday hold a reception for Enugu State commissioner for housing, Barr. Peter Okonkwo, who incidentally is the first commissioner to be appointed from the community since the country returned to democratic rule in 1999.
The Chairman of Publicity and Mobilization of the reception Hon. Uche Eze who made this known to newsmen on Thursday in Nsukka.
Eze said that the community decided to organize the reception for Okonkwo based on his enviable records and numerous contributions to the community in particular and humanity in general.
Among dignitaries that are expected to grace the occasion is Governor Ifeanyi Ugwuanyi of Enugu state who would be the special guest of honour.
"The people of Nkpunano will on Sunday 5, August host its illustrious son Hon. Barr. Peter Okonkwo (Ohamadike) who was appointed commissioner for Housing by Governor Ifeanyi Ugwuanyi.
"We are honouring Ohamadike because of his good track records, humility as well as his numerous positive contributions to the community in particular and humanity in general.
"His antecedent in politics is worth emulating and this is another reason for celebrating him", he said.
Okonkwo, dubbed as an astute politician was once governorship candidates of Alliance for Democracy (AD) and United Nigeria Peoples Party (UNPP).
"The Commissioner is a household name in the state because he is grassroots politician and a philanthropist who takes pleasure in empowering people," he said.
Eze said the event will take place on Sunday August 4, at Central School Isiakpu, Nsukka by 11am.